Land Rover took to the Shanghai auto show to celebrate a very serious landmark, with 2015 marking the 6 millionth model to roll off the production line in the company's 67-year history.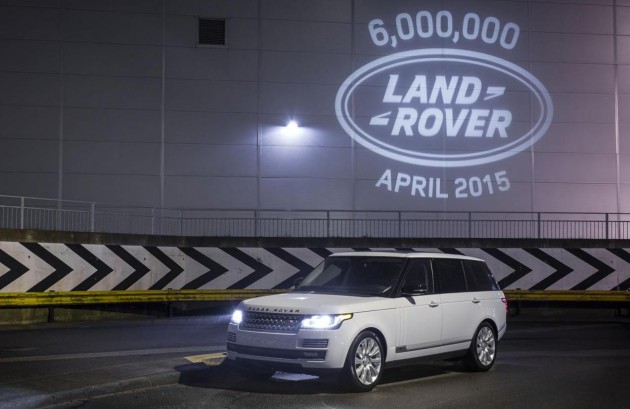 The six millionth model produced was a LWB (long wheelbase) Yulong White Range Rover Vogue, and is currently on display at the Shanghai show. The model will in time be sold in China after finishing its press and publicity duties. Sales operations director Andy Goss said,
"It's fitting that the 6,000,000th Land Rover to be produced is a Range Rover, since this year marks the 45th anniversary of the original Range Rover's launch and even today, the vehicle remains peerless. With the growth of sales in China since the latest version of the Range Rover was introduced in 2012, it is entirely appropriate that this landmark vehicle is destined for a Chinese customer."
As a subtle reminder of the significance of the six millionth edition, Land Rover has fit special lenses for the standard puddle lamps. Instead of only shining the Land Rover logo, the light portrayed on the ground when the doors are unlocked also shows '6,000,000'.
The special vehicle was built at Land Rover's Solihull facility, where the legendary SUVs have been built since 1948. Of the six million produced, Range Rover models account for over 900,000, which is interesting considering Range Rover models didn't arrive on the scene until 1970. See below for a timeline on the company and its key milestones.
1947 – Original Land Rover project approved
1948 – The Land Rover is launched at the Amsterdam Motor Show on 30th April
1948 – First Station Wagon introduced
1949 – British Army orders its first Land Rovers
1950 – Freewheel 4×4 system replaced by selectable two or four-wheel-drive
1953 – Long-wheelbase Land Rover introduced
1957 – Diesel engine introduced
1958 – Series II Land Rover unveiled with more refined styling
1959 – 250,000th vehicle produced
1961 – Series IIA with 2.25 diesel introduced
1966 – 500,000th vehicle produced
1970 – Original two-door Range Rover (the Classic) goes on sale
1971 – Land Rover Series III launched 750,000th Land Rover produced
1972 – Range Rover crosses the Darien Gap on the 18,000-mile British Army Trans-America expedition, taking 99 days to cover 250 miles of dense jungle
1976 – 1,000,000th Land Rover built
1977 – Range Rover wins 4×4 class in the 30,000km (18,750-mile) London-Sydney Marathon – the longest ever speed-based car rally
1979 – A Range Rover wins the inaugural Paris-Dakar rally (and again in 1981)
1981 – First production four-door Range Rover debuts along with the first factory-produced limited edition – the 'In Vogue'
1982 – Automatic transmission introduced on Range Rover for first time
1983 – Land Rover adopts coil sprung suspension with introduction of One Ten
1984 – Land Rover Ninety introduced
1985 – Diesel-powered 'Bullet' Range Rover breaks 27 speed records
1987 – Range Rover launched in North America
1989 – Range Rover is world's first 4×4 to be fitted with anti-lock brakes
– Land Rover Discovery is introduced as a three-door model only
1990 – Land Rovers are re-launched and renamed Defender 90, 110 and 130 with new 2.5-litre turbo-charged direct injection diesel engine
– Five-door Discovery arrives
1992 – Land Rover North America is founded with a limited run of 500 Defender 110 vehicles powered by the 3.9-litre V8 engine
– Range Rover is world's first 4×4 to be fitted with electronic traction control and automatic electronic air suspension
1993 – Land Rover North America follows up the success of the launch of the Defender 110 with the Defender 90 soft top
1994 – Second-generation (P38A) Range Rover introduced
– Discovery launched in USA
1997 – Land Rover Freelander launched
1998 – Discovery II launched
2001 – 3,000,000th Land Rover produced is a Freelander
2001 – Third-generation Range Rover introduced
2002 – 500,000th Range Rover is produced at the Solihull plant
2004 – Discovery 3 introduced at New York Auto Show
2005 – Range Rover Sport launched
2006 – All-new Freelander 2 introduced
2007 – 4,000,000th Land Rover produced is a Discovery
2009 – Discovery 4/LR4 launched
– Freelander TD4e (Stop/Start) introduced delivering 10 per cent improvement in fuel consumption over previous model
2010 – Range Rover Evoque introduced
2012 – Fourth-generation Range Rover introduced – the world's first all-aluminium SUV
2013 – Second-generation Range Rover Sport introduced before establishing record for production standard SUV at Pikes Peak
– Land Rover Discoverys complete record-breaking London-Cape Town expedition, making 10,000-mile journey in 10 days
2014 – 500,000th Range Rover Sport sold
2014 – Land Rover Discovery Sport introduced
2015 – Exclusive Range Rover SV Autobiography Black edition launched at New York
– 6,000,000th Land Rover produced is a Range Rover LWB SE Vogue