The Ferrari F12 is already one of the most powerful production cars on the market, especially for a two-wheel drive vehicle. However, an update is set to be on the way that could make it even more powerful.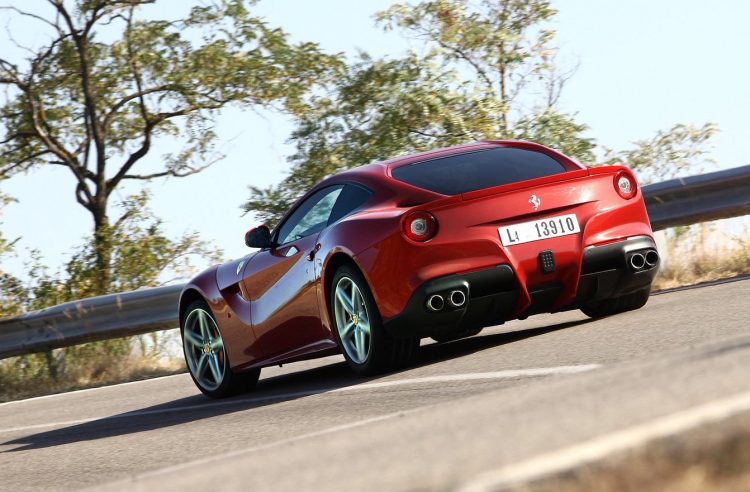 In its current form the F12 uses a 6.3-litre naturally aspirated V12 engine to produce a colossal 545kW. This is an insane amount of power. According to rumours on Ferrari Chat forum, Ferrari engineers are working on an update for the model. An early example was previewed recently at a private event in Italy, as highlighted by the below photo from Instagram user saib_hreas.
There's speak of the engine growing from 6.3 litres to 6.5 litres. This, along with some other fine-tuning, is said to take power up to a ridiculous 597kW. That's 800hp in old-fashion speak.
It's unknown what this will do to the 0-100km/h time – which already stands at 3.1 seconds – but if it retains a rear-wheel drive layout the rear tyres are sure to be in for a hard time. Top speed and cross country ability will be the focus, with the needle expected to swing well past the 200mph (322km/h) mark.
In other areas, the updated F12, which is apparently known as the F152M, is set to come with tweaked suspension with rear-wheel steering technology, along with a tweaked transmission for even quicker shifting, up and down. The interior is also said to be revised to include a more modern digital display and wide touch-screen.
The current F12 is on sale in Australia priced from $690,745, while the 574kW F12tdf special track edition started from AU$808,888 (excluding on-roads). We can probably anticipate a slight price increase for the new model. If we're lucky we might get to see the car for the first time at the Geneva motor show next month.