The hugely anticipated Toyota FT-86 specifications have been revealed in a manual. Such engine power and weight details aren't set to be unveiled officially until the 2011 Tokyo Motor Show later this month.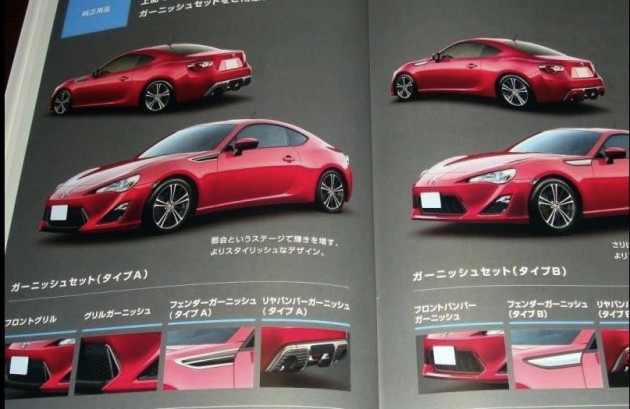 Recent rumours and reports have been right, as these latest Toyota FT-86 specifications show, the coupe will feature a 2.0-litre naturally aspirated four-cylinder boxer engine developing 147kW (200hp) of power and 205Nm of torque.
(click to enlarge)
As for the weight, early speculations were a little off, but the Toyota FT-86 will weigh 1210kg in base model form and 1230kg for the flagship. It may not be as lightweight as the Mazda MX-5, but 1200kg is still a featherweight compared with loads of other sports cars currently on sale.
Those who remember the Nissan 200SX will notice that the Toyota FT-86 will provide a power-to-weight ratio similar to the 1998 S14 200SX Sports. It had 147kW and weighed in at 1290kg, meaning the Toyota FT-86 will actually provide a slightly better ratio in this specific case.
The Toyota FT-86 specifications also show there will be a six-speed automatic transmission option available. According to sources, the auto transmission is set to be based on the Lexus IS F eight-speed sports automatic, albeit with two less ratios.
Other details revealed in the document show the Toyota FT-86 will feature vehicle stability control and a limited-slip differential as previously reported.
The Toyota FT-86 will also come in two sets of wheel and tyre combination. The base model will roll on 16-inch alloy wheels wrapped in 205/55 tyres, while the flagship, according to this document, will come with 17-inch alloys wrapped in 215/45 tyres.
Stay tuned for more leaks and the official unveiling at the 2011 Tokyo Motor Show on November 30 for more information. Acceleration times are yet to be revealed. Anyone care to hazard a guess for 0-100km/h?
(Thanks to ft86club.com for the scanned leaks)
Also check out:
– Toyota FT-86 production car revealed without accessories
– Toyota FT-86 production car revealed