Toyota will be showing off its ability to appeal to the steampunk trend at this year's Tokyo Motor Show with the unveiling of the KIKAI concept.
Looking like a strange and modern interpretation of a rusty old hotrod, the KIKAI was designed to explore the fundamental appeal of machines, Toyota says. This is via exposed components and a raw attitude towards body design.
Toyota says the concept was developed with three key principals; innovation form, new driving sensation, and stimulating layout. As you can see, the concept certainly possess some innovative qualities that would provide an interesting driving sensation and stimulation.
At the front you can see the exposed, externally-mounted suspension components which wrap over the minuscule bonnet. There's also big cutaways behind the open-wheel layout, and instead of a front grille there's simply a big hole with a basic bumper bar that looks like it comes from a dodgem car.
Around at the back it kind of looks like a four-wheel motorcycle, with exposed strut suspension, a complete lack of bodywork, and a clear view of the mid-mounted engine of unknown specification.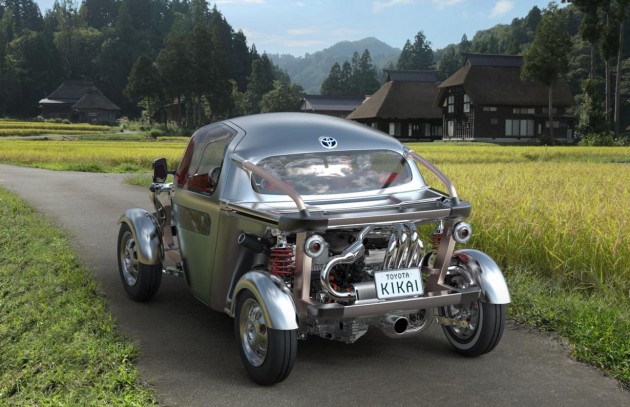 The interior follows a similar theme, with analogue-style gauges and switches, and a real mechanical approach to on-board entertainment. There's even windows in the footwells so the driver can check out the operation of the suspension and steering.
Of course, there are no plans for Toyota to put this creation into production any time soon. But it's nice to see Toyota does have a creative side in terms of automotive design and functionality.