Toyota has announced its plans to release a hydrogen-powered bus which can double as an emergency power resource from early next year.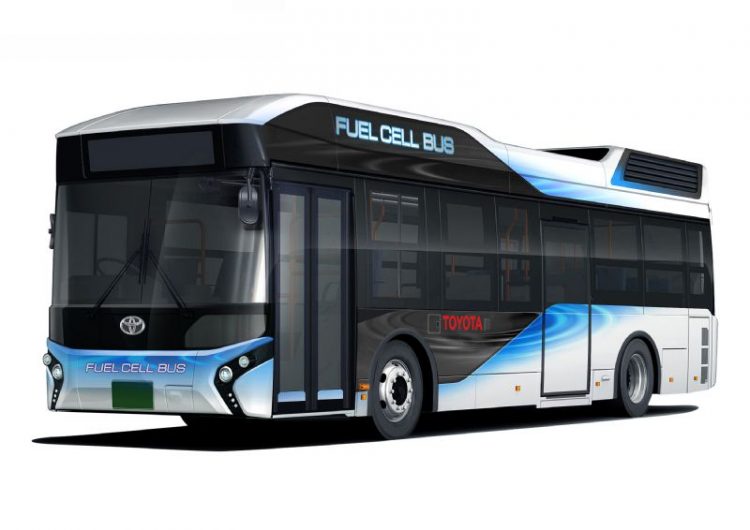 As Japan prepares for the 2020 Tokyo Olympic games, Toyota said it plans to produce over 100 fuel cell buses to serve the Tokyo area as soon as next year.
The fuel cell powered bus creates power from ten high-pressure tanks that hold 600 litres of hydrogen, which in turn produce a high-capacity charge rated at 235kWh – triple that of the Tesla Model S's battery pack.
Charge is supplied to the two AC synchronous electric motors, each rated at 113kW/335Nm, giving Toyota's buses a power figure of 226kW/670Nm. The fuel cell buses can hold up to 77 passengers, 26 seated, 50 standing, plus the driver.
In addition to the obvious public transport applications, Toyota says its fleet of buses are also a useful government resource for emergency situations. The buses double as a high-capacity external power source, delivering a 9kW current. They can be used to power "evacuation sites such as school gymnasiums, or [in the event of a blackout], its electricity can also be harnessed for home electric appliance use," Toyota said.
The fuel cell bus project represents the Japanese marque's ethos of "the use of hydrogen to be a powerful source of energy for the future," it said in a statement. Toyota is working on developing fuel cell forklifts as well as stationary fuel cells for homes, similar to Tesla's power source which utilises solar power rather than hyrdrogen.
"Going forward, the group will accelerate developments in a unified manner, so as to contribute to the realisation of a hydrogen-based society," Toyota said.
The buses have undergone extensive testing for the Tokyo Metropolitan Government, who plans to use the 100-strong fleet to aid Tokyo's congested streets. The Japanese government has pledged to spend up to $6 billion on updating Tokyo's public transport infrastructure ahead of the 2020 Olympics. See below for main specs:
Vehicle
Length / width / height
10,525 / 2,490 / 3,340mm
Capacity (seated, standing, and driver)
77 (26+50+1)
Fuel Cell stack
Name
Toyota FC stack
Type
Solid polymer electrolyte
Maximum output
114kW × 2 units
Motor
Type
AC synchronous
Maximum output
113kW × 2 units
Maximum torque
335Nm × 2
High-pressure hydrogen tank
Number of tanks
10
Nominal working pressure
70 MPa (approx. 700 bar)
Tank storage density
5.7 wt%
Tank internal volume
600 litres
Drive battery
Type
Nickel-metal hydride
High-capacity external power supply system
Maximum output
9kW
Power supply amount
235kWh