Audi is reportedly planning to unveil an all-new performance SUV concept that will eventually take on the likes of the BMW X6 M at the Geneva motor show in March.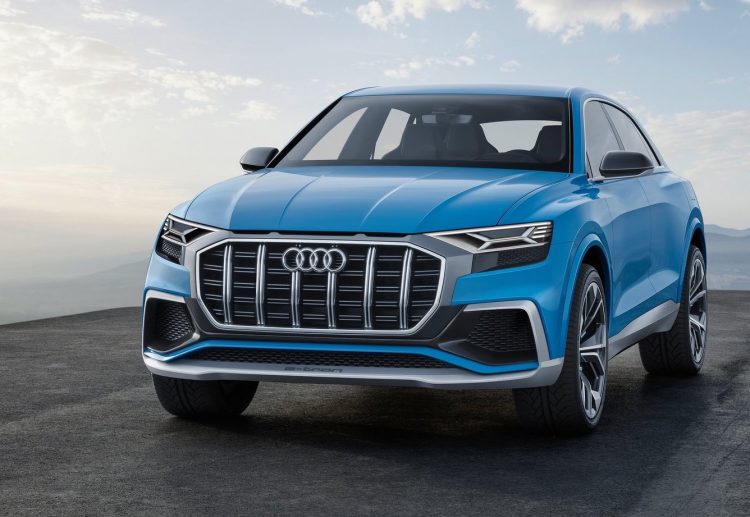 The news stems from an Autocar report, that says Audi is planning to introduce a concept version to spike interest at the big Geneva event. It's understood the car, known as the RS Q8, is set to be based on the Q8 concept (pictured) from earlier this year.
Official facts and figures are yet to be confirmed, but it's believed the new model will feature a potent petrol engine alone and not a sophisticated hybrid like in the Q8 concept. The publication claims there is word that suggests it will be a tuned version of its 4.0-litre twin-turbo V8 generating around 450kW.
Going up against the likes of the BMW X6 M and the Mercedes-AMG GLE 63 S, both of which can conquer the 0-100km/h sprint in 4.2 seconds, it will need to be very potent indeed. Both rivals use a twin-turbo V8, with the 4.4-litre BMW producing 423kW and the 5.5-litre AMG unit producing 430kW.
In typical RS-model fashion, the RS Q8 is expected to showcase a racy exterior theme with big wheels, big air intakes in the front end, and possibly some big, pumped out wheel arches. Bigger brakes, sports suspension, and a similarly-sporty interior are likely to be part of the package too.
The new model will be Audi's first take on the large four-door coupe SUV market segment, with the regular Q8 tipped to arrive first to take on the X6 and GLE Coupe, with the RS version inspired by the Geneva-bound concept coming in a bit later.