Toyota has announced a unique and very eco-friendly rally car based on the FCV that will feature in the final stage of the Japanese Rally Championship this weekend.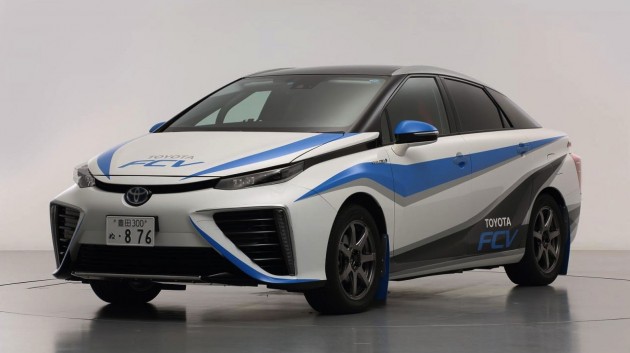 The idea is to showcase the FCV's clever hydrogen fuel cell technology in motorsport, acting as the safety car that checks out the course before the racing commences. While it does this it will be producing zero emissions.
Toyota has modified FCV to suit a spot of rallying, and fitted up some racing wheels wearing special tyres, bigger mud flaps, and a full roll cage system inside. It's unknown if there are suspension upgrades, but given it will be taking on dirt tracks it will probably be modified somewhat.
Helping the FCV rally car stand out among the countless dedicated rally machines that will be competing during the final round is a unique blue, black, and grey colour scheme, with a mostly white body.
Japanese motorists will be able to purchase an FCV of their own from April next year. The FCV first started out as a concept vehicle, however, the infrastructure in Japan has slowly been changed to suit such vehicles.
In standard form the FCV is powered by a hydrogen fuel cell electric powertrain capable of propelling the small sedan from 0-100km/h in around 10 seconds. It offers a maximum range of around 480km and it can be refilled, at facilitating outlets, in about five minutes.
It might be hard to imagine a rally event taking place without turbochargers popping and unburnt fuel spitting from exhausts, but it is inevitable that one day it will all come to an end, with vehicles like the FCV potentially taking over.
To get your first glimpse of the future, the final round of the Japanese Rally Championship takes place this weekend in Shinshiro.