To give the ever-popular Mazda CX-5 even greater appeal, Mazda Australia has applied some updates. Headlining the range is the arrival of an uprated twin-turbo diesel engine option.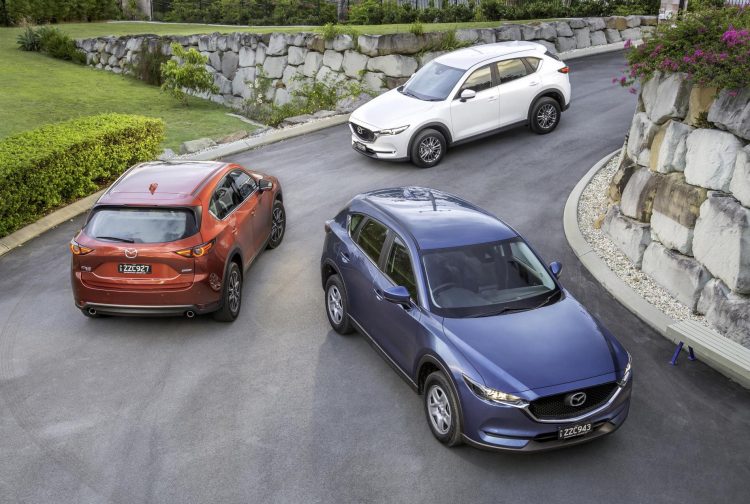 Mazda has applied new two-stage twin turbochargers to its 2.2-litre four-cylinder unit to help with versatility and performance. The unit's outputs are raised from 129kW and 420Nm, to an impressive 140kW and 450Nm. This makes it the most powerful and most torquey diesel engine in the class.
For the new unit Mazda has applied a fresh water flow management system to help speed up the warm up process, while the compression ratio is lifted from 14.0:1 to 14.4:1. New multi-hole piezo injectors are also introduced, and the combustion chamber takes on an egg-shape profile for improved efficiency.
In other areas of the range, the 2.5-litre petrol engine adopts cylinder-deactivation technology for the first time. It's able to shut down cylinder one and four in light load conditions, creating virtually a two-cylinder engine. At 40km/h, for example, real world economy is improved by 20 per cent. Some changes have been made to the 2.0L unit as well, in the area of fuel injection and water flow management.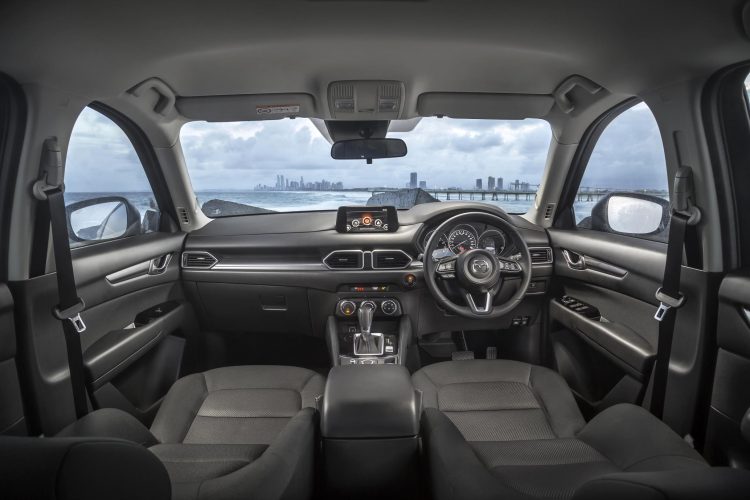 Aside from the mechanical stuff, the updated 2018 Mazda CX-5 range sees some equipment revisions. The top Akera model comes with a 360-degree camera system, while the Touring gets the head-up display that's reflected onto the windscreen instead of the tacky flip-up system. Speaking about the updated range, Mazda Australia MD Vinesh Bhindi said:
"The CX-5 introduces some major developments with cylinder deactivation and the variable geometry turbocharger, but it's the smaller technologies that advance Mazda to the ultimate goal of fuel efficiency in combustion engines."
The updated range is on sale now. Some price cuts have been applied, with the Maxx Sport and Touring dropping $400, while the GT and Akera drop $800. See below for pricing details (excluding on-roads):
2018 Mazda CX-5 Maxx 2.0L 6MT FWD – $28,690
2018 Mazda CX-5 Maxx 2.0L 6AT FWD – $30,690
2018 Mazda CX-5 Maxx 2.5L 6AT AWD – $33,690
2018 Mazda CX-5 Maxx Sport 2.0L 6AT FWD – $33,990
2018 Mazda CX-5 Maxx Sport 2.5L 6AT FWD – $36,990
2018 Mazda CX-5 Maxx Sport 2.2L Diesel 6AT AWD – $39,990
2018 Mazda CX-5 Touring 2.5L 6AT AWD – $38,590
2018 Mazda CX-5 Touring 2.2L Diesel 6AT AWD – $41,590

2018 Mazda CX-5 GT 2.5L 6AT AWD – $43,590
2018 Mazda CX-5 GT 2.2L Diesel 6AT AWD – $46,590
2018 Mazda CX-5 Akera 2.5L 6AT AWD – $46,190
2018 Mazda CX-5 Akera 2.2L Diesel 6AT AWD – $49,190