This is the new 2019 Audi A6 Avant, bringing smart new technology to the large premium wagon segment, including a mild hybrid system to increase efficiency, and all-wheel steering for improved stability and agility.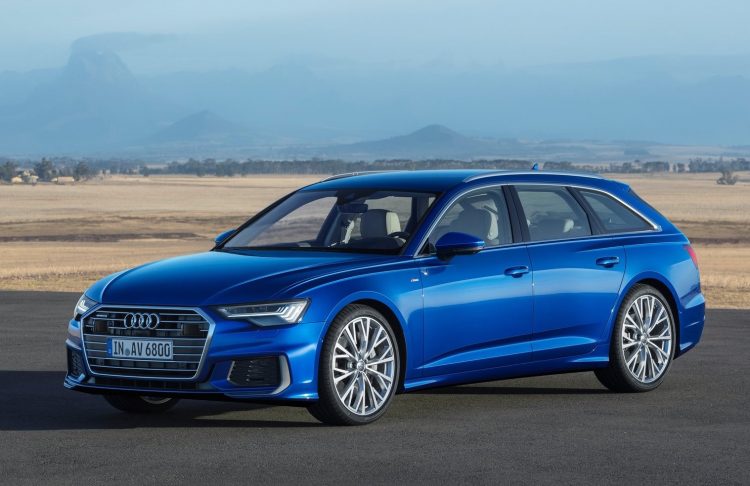 Standing 4.94 metres long, 1.89 metres wide, and 1.47 metres tall, the new model offers greater interior space than the previous model. Audi claims the new version betters the rivals in terms of front and rear elbow room and knee room in the rear seat. Speaking of space, the cargo area offers 565 litres in standard configuration, but with the rear seats folded down it opens up 1680 litres. The load width is an impressive 1050mm.
On the outside Audi has applied its latest, clean-cut styling language to the new A6 Avant, with a low and wide single frame grille at the front, neatly bolstered wheel arches, and a swooping roofline that leads to the low-profile D-pillar. A decorative trim connects the taillights, while the S line package adds sporty tones.
Inside, it's typical Audi decor, in that it's very clean, very modern, with amazing attention to detail and precision craftsmanship. The dash features two LCD displays, with a 10.1-inch screen at the top for the MMI navigation and media systems, and an 8.6-inch unit down below for the climate control and comfort functions. A 12.3-inch digital screen is used for the instrument cluster as well, with adjustable displays via buttons on the steering wheel.
As for the power sources, all engine options come with mild hybrid technology as standard. The belt alternator starter helps recover up to 12kW via a 48V electric system during braking, feeding into a lithium-ion battery. This in return allows the A6 to be driven with the engine switched off to coast at speeds between 55-160km/h, saving fuel.
Safety has also been boosted, with LED headlights as standard or optional HD Matrix LEDs. Autonomous emergency braking is standard, along with adaptive cruise control with stop-and-go autonomous-like capability. The cruise system can predictively factor in speed limits, bends, and even roundabouts if sat-nav guidance is active.
Right now Audi Australia doesn't offer the A6 Avant, however, buyers can get the A6 Avant Allroad crossover. The local arm says this new model is currently under evaluation for a potential Australian introduction.