Some more details of the highly anticipated Tesla Model 3 have been revealed, with a comparison chart stacking up the differences between the existing Model S large sedan and the new Model 3 mid-size sedan.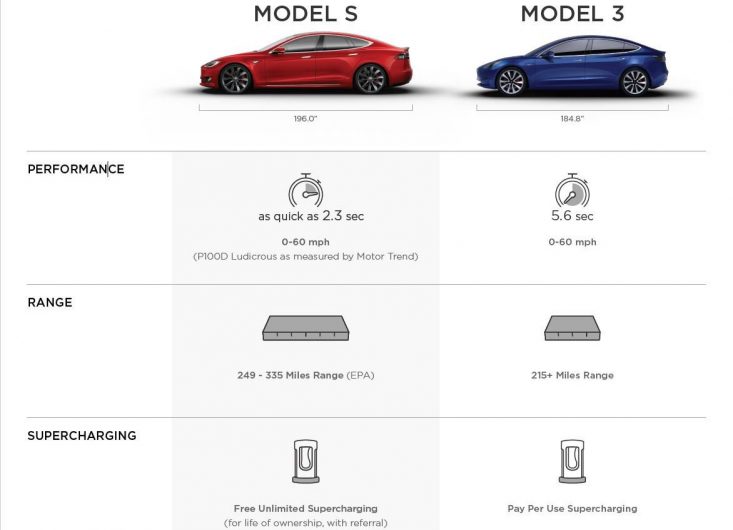 We already know the Model 3 won't offer quite the range as the larger and more expensive Model S, at least initially, and we know it will come with a slightly smaller albeit-still-humongous touch-screen interface. According to a comparison chart obtained by Model 3 Owners Club, some finer details are confirmed.
For us performance enthusiasts, the 0-60mph (97km/h) sprint time of 5.6 seconds is news. Company boss Elon Musk has previously said it will do it in under six but now we have some more concrete figures. This will make it around as quick as rivals such as the BMW 330i (5.8 seconds), the Mercedes-Benz C 350 e hybrid (5.9 seconds), and the Lexus IS 350 (5.9 seconds).
The chart also confirms a combined front and rear boot space of 396 litres, compared with 850L on offer in the Model S, as well as a range of 346km, compared with up to 539km in the Model S (EPA rating). Customers won't receive free lifetime Supercharging access like in the Model S. Instead, Model 3 buyers will go onto the new pay per use Supercharging system.
Why Tesla is wanting to compare two different vehicles is a little curious. However, Tesla is known for being very transparent and up front about its products and operations, so maybe this is just a way it can show customers what to expect. The Model 3 has been been confirmed to start from US$35,000, with the Model S sitting at more than double that.
Another interesting detail that has up until now been unknown is the overall length of the Model 3. It stands at 4694mm. This makes it slightly shorter than the current Audi A4 (4726mm), but a touch longer than the BMW 3 Series (4633mm). Width measurements are yet to be revealed.
Lastly, Tesla gives us an estimate on the delivery times. For the Model S, in the U.S. at least, it's pegged at 30 days or less. For the Model 3, recent/today's orders are not set to arrive until the middle of 2018. Check out the source video below for more insight.