Skoda has released another teaser for its upcoming Vision E concept that it will unveil at the Shanghai auto show later this month, previewing a new SUV coupe with a clever interior.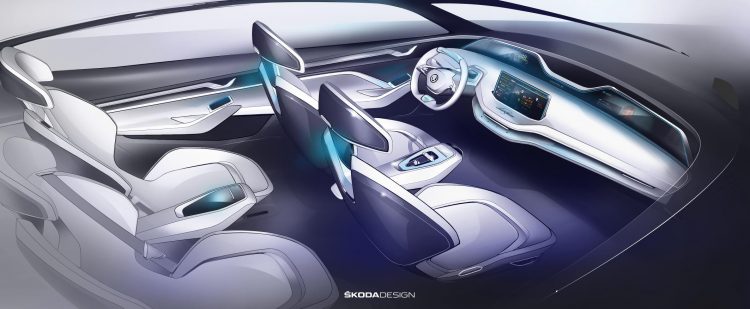 The Vision E is a purely electric concept that is said to hint at a new four-door coupe SUV of the future. For the latest teaser Skoda is showcasing a futuristic interior setting.
Thanks to a long wheelbase and short front and rear overhangs, along with large windows, the cabin is envisioned as a bright and airy environment with plenty of space.
Only four seats are featured, but each is an individual shell-shaped unit incorporating innovative backrests. They are also elevated slightly for a good view, and they can be rotated by 20 degrees, making getting in and out easier.
Being an electric vehicle with motors at the wheel hubs, there's no intrusive driveline tunnel taking up interior space. This all falls in line with Skoda's 'Simply Clever' brand slogan.
As a bonus, each seat passenger gets their own screen which can be used to adjust various comfort functions as well as access media systems. There's also a main screen on the dash, and each door comes with a special phone box with inductive recharge capability.
Skoda might not release this specific Vision E concept onto the market, but it does confirm it is planning to release five fully electric vehicles in various segments by 2025. Various elements of this concept are set to inspire those cars.