Audi will unveil its most secure vehicle ever at the Frankfurt show this week, in the form of the new heavily-armoured Audi A8 L security.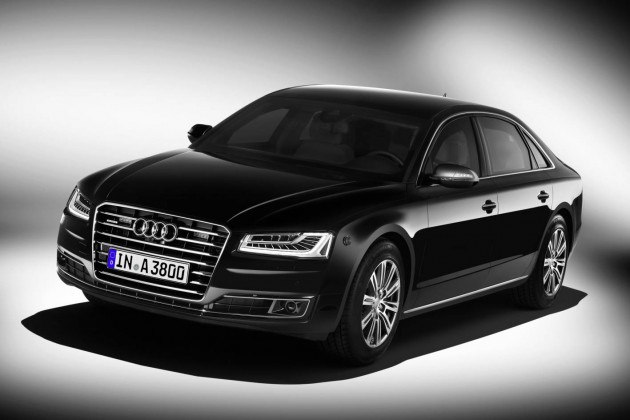 The company is calling it the most secure vehicle it has ever made, based on the latest A8 L long wheelbase sedan featuring either a 4.0-litre twin-turbo V8 or W12 engine.
It showcases serious armour reinforcements that help it meet VR9 ballistic protection standards, up from VR7 in the previous edition. This is the highest level of protection for a civilian sedan.
To help it reach such standards, the special A8 comes with a unique safety cell made from various extremely resistant materials such as aramide fabric and hot-formed steel. There's also high-strength glazing.
Audi builds the package under its own supervision at the Neckarsulm factory, and at a "top-secret" facility for the more vulnerable items featured in the car.
Cool highlights include an armoured communication box in the cargo area, an intercom for communication with the outside world, and selective door locking. Buyers can also option for a special emergency escape, a fire extinguisher system, and a fresh air system.
In terms of propulsion, buyers can select between a 320kW 4.0-litre twin-turbo V8 producing 600Nm of torque, or a 6.0-litre naturally aspirated W12 developing 368kW and 625Nm. Both offer a limited top speed of 210km/h due to emergency run-flat tyres.
Interested consumers – or wanted criminals – can place their orders now. Deliveries are scheduled to commence during the second quarter of 2016.