Production has begun for the right-hand drive versions of the all-new Honda NSX supercar at the company's Performance Manufacturing Centre (PMC) in Ohio, USA.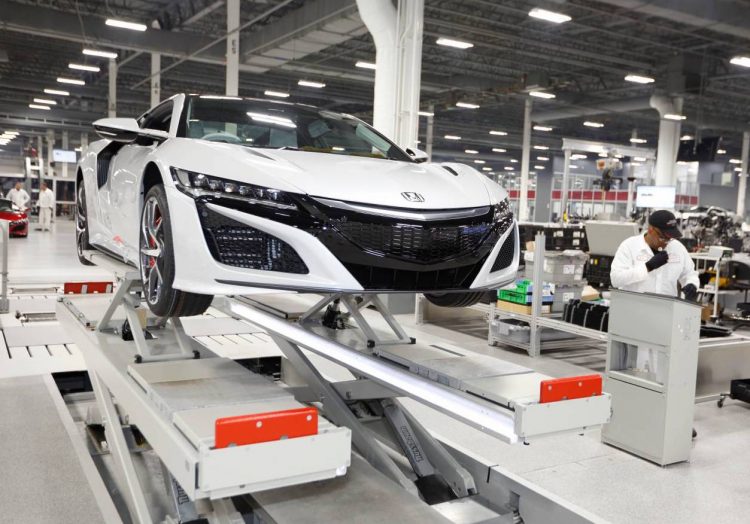 The Honda NSX will go on sale in Australia from $420,000, as previously reported, with local deliveries set to start rolling in during the first half of 2017. Left-hand drive versions commenced production earlier this year, with some international media already having sampled the car.
Honda is promising a high level of craftsmanship with the new model thanks to the advanced engineering and design undertaken at the manufacturing centre. The company says the centre "defines the brand".
Every bolt that holds together the NSX is hand started by a technician at the facility, and exterior panels are attached manually by hand towards the end of production from the inside out. This process ensures a symmetrical side-to-side fitment, Honda says.
As for the 3.5-litre twin-turbo V6 engine, it is hand built by 'master builders' at the Anna factory down the road, also in Ohio. It's there where it is matched up to the new nine-speed dual-clutch automatic transmission and rear direct-drive electric motor.
Each engine is then machined balanced, bench tested and run-in to the equivalent of 200km to ensure every NSX is track-ready at the time of customer delivery. The engine and front electric motor is installed back at the PMC. Honda Australia director Stephen Collins spoke about the production of Australian-destined models, saying:
"Everything about the NSX has an air of exclusive craftsmanship and Honda precision about it. We're very excited about the first customer cars arriving next year. The NSX will be exclusive, but an important halo car for the brand."