Renault has released teaser images for its upcoming 'Oroch' small utility based on the Dacia Duster. It's being marketed as a sporty utility pickup.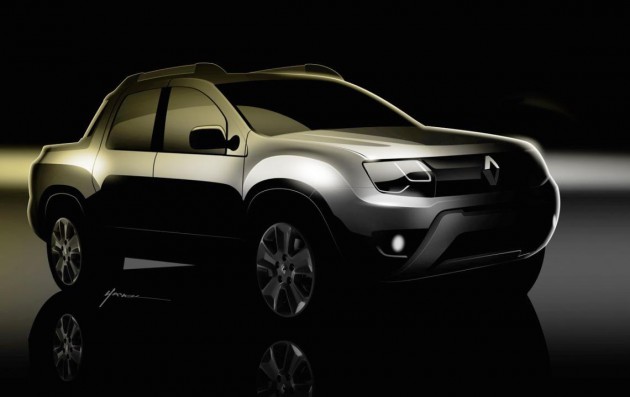 Small car-based utes are a staple of the South American and South African markets, with entrants from GM (Chevrolet Montana), Fiat (Strada), and Ford even has a small ute based on the fourth-gen Fiesta. Renault will be unique in offering an SUV-based entrant in the segment.
Based on a concept shown at the 2014 Sao Paolo motor show in Brazil, the Oroch is being touted as a 'Sport Utility Pickup'. Power is expected the come from a 2.0-litre naturally aspirated engine with a six-speed manual or four-speed automatic. This bodystyle is a logical progression for the manufacturer, as aftermarket suppliers had already been offering ute conversions for the Duster.
With production of our Aussie car-based utes ceasing in the next few years, it's good to see that other markets are still catering for the ute markets. With any luck, some of them may be sent our way at some point in the future.
The production Oroch will debut on June 18 at the Buenos Aires Motor Show in Argentina.