The mid-size SUV segment is bursting with options at the moment. Which model is right for you? Today, we're taking a look at the veteran of the class, the Toyota RAV4, and pitching it against one of the newest members of the club, the Kia Sportage.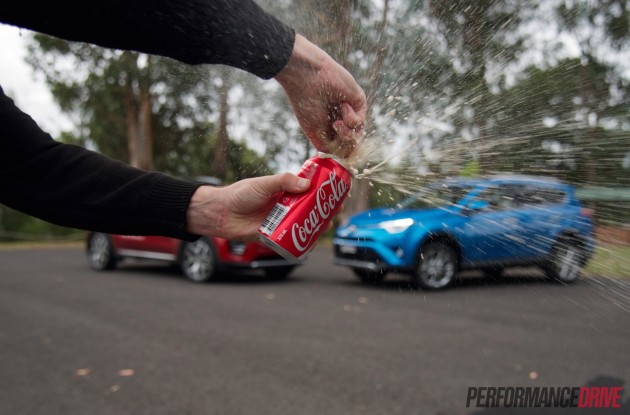 Toyota launched the new-look RAV4 in December 2015, bringing enhanced technologies, and a freshened up design most noticeable at the front end. Now there's more modern, triangular-like headlights with daytime running lights, and a sporty front grille and bumper bar layout that's in line with other recent-model Toyotas. No major changes have been made to the trusted underpinnings though, not that it's a bad thing as it has been tried and tested all over the world. It continues to feature independent front and rear suspension with 176mm of ground clearance.
As for the Kia, it also underwent a facelift, introduced in January 2016. Kia applied a more comprehensive update for the popular model, employing a completely new body design and a heavily updated interior. It too rides on its existing platform, which first started out underpinning the old Hyundai ix35 launched in 2009. Kia's Australian arm has fine-tuned the independent suspension specifically for Aussie conditions, offering 172mm of ground clearance.
Packaging and safety

Both of these SUVs sit in the middle of the market segment in terms of dimensions and interior room. Toyota's RAV4 goes for a more rugged and practical appeal, with lots of solid, hard-wearing plastics, and an airy atmosphere making it the least claustrophobic of the two. The Sportage, however, seems to use higher quality materials in most areas. The driving position also feels more natural and intimate in the Kia.
Headroom and legroom is ample, especially in the RAV4, with a well-forward dash opening up loads of room in the front. While the rear seat in the RAV4 is somewhat flat and basic, it does present the most spacious area compared with the Kia and its swooping roofline. The rear seats can be folded completely flat in the Toyota, whereas the seats in the Kia don't fold down quite as seamless. This does mean the Toyota offers a more practical and useable cargo area, and it happens to be larger in volume too: 466L versus 577L in the RAV4 (with standard space-saver spare).
Modern technologies are very important when it comes to shortlisting vehicles for purchase, and fortunately, both of these come generously equipped. There's a touch-screen interface for all variants on both models, with the Toyota adopting a 6.1-inch system up against Kia's 7.0-inch unit. In base model forms these are paired in with a decent six-speaker audio system with USB and aux-in support, along with full Bluetooth connectivity for hands-free driving and music streaming.
Power steering is standard on both, of course – after all it is 2016. However, the Toyota goes for a heavier and more tactile electric-assisted setup while the Kia uses a lighter-feeling electric mechanism (electric-assisted steering is more efficient than the conventional hydraulic power assist usually offered in cars). Electronic steering setups usually take away some engagement and feel but in the Kia there is plenty of feedback coming through, if slightly less than what's sent through in the RAV4. These vehicles might be SUVs but they aren't overly large or overwhelming. Overall dimensions read 4605mm in length for the RAV4 and 4480mm for the Sportage, with a width of 1845 and 1855, respectively. This means they are only marginally larger in proportion to a Mazda3 sedan, making them nimble and easy to park or thread through traffic.
Safety standards are very high for both vehicles, with all RAV4 variants coming equipped with nine airbags, stability and traction control, a hill-holding function for smooth take-offs, and rear parking sensors. As with all Sportage models, the all-important rear-view camera is standard fitment. Kia offers similar specs, with eight airbags (misses knee airbag for the driver), hill-hold, parking sensors, and stability control. Interestingly, even the base models come with cruise control as standard on both, helping with long touring ability.
Critically, recent ANCAP crash tests have ended well for these vehicles. The RAV4 received an overall score of 34.56 out of 37, while the Sportage was marked 35.10. The offset frontal crash was where the RAV4 fell behind the Sportage, just, with a score of 13.56 out of 16 compared with the Sportage's score of 15.10 out of 16. In either case, these SUVs are at the forefront of vehicle safety and easily meet the class standards for this price range and for this style of vehicle.
Driving and economy
At the entry level end of the range the RAV4 GX comes with a 2.0-litre four-cylinder engine producing 107kW of power and 187Nm of torque. This is matched to a CVT automatic with front-wheel drive, offering a combined cycle fuel consumption average of 7.0L/100km.
For the Kia, the Sportage Si base model also gets a 2.0-litre unit, however, it produces 114kW of power and 192Nm of torque. Instead of a CVT auto (variable 1-speed) the Kia uses a conventional six-speed auto. With more power and a less-efficient gearbox, it comes as no surprise the Kia uses a touch more fuel, rated at 7.9L/100km.
In saying that, the Kia does get up to speed easier and doesn't require as much throttle to maintain momentum. In the real world these two vehicles offer a very similar fuel consumption. The Kia is also around 10kg lighter which does help with economy, if only fractionally.
Ride is supple and comfortable in both models, with tall skinny tyres helping to absorb nasty potholes and road imperfections. These are the kind of vehicles that you could drive all day long and hop out not feeling tired or drained. The high driving position means you can peer over your neighbouring motorists to get a good understanding on what the traffic is doing around you, with plenty of forward and side vision. In other words, these are simple and relaxing vehicles to drive on a daily basis.
Visibility through the back windscreen and rear pillars is constricted somewhat in the Sportage due to the sporty roofline, but you soon get used to it. The fact that it's easy to place on the road and judge its dimensions does help eliminate any shortcomings of the restricted rear vision.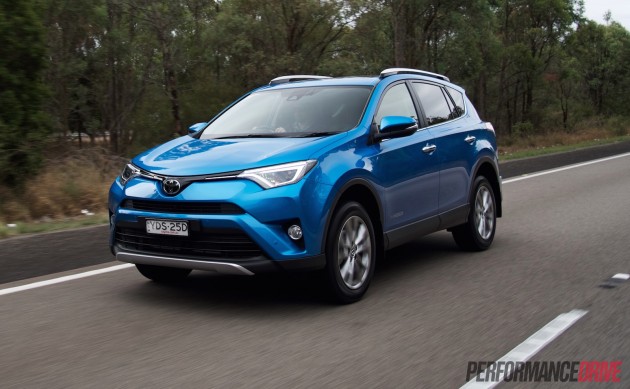 Which one should you go for?
You won't be disappointed in either vehicle. If we had to separate the two we'd say the RAv4 is more heavy duty and rugged, and it could probably withstand everyday abuse and any off-road adventures better than the Kia. It also comes attached with Toyota's exceptional reliability history. On the other hand, the Kia can be a more comfortable drive with its nicer mixture of cabin materials and more natural driving position. The Kia also comes with an industry-leading seven-year/unlimited kilometre factory warranty against the Toyota's more typical three-year/100,000km arrangement. As we said though, we'd be happy to drive either of these on a regular basis.
Note: Flagship RAV4 Cruiser and Sportage Platinum shown
2016 Toyota RAV4 vs Kia Sportage overview from Eclipx Group on Vimeo.