Lexus has pulled the wraps off a sleek fuel-cell powered concept called the LF-FC at the Tokyo Motor Show, which likely previews the next-generation LS flagship sedan.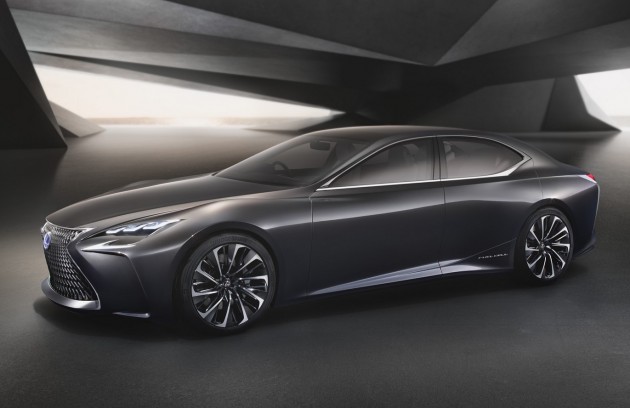 At 5.3m long, 2m wide and 1.41m high, the LF-FC is some 200mm longer, and features sleeker, sporty rearward cab proportions compared with the current, more luxury-oriented styling of the LS.
A dramatic interpretation of the spindle grille is flanked by the requisite 'Nike swoosh' and stepped LED lights. A clean rear end features LEDs that have an appearance of being raked in sand, with vents evocative of the LF-A – arguably the most recognisable application of Lexus's L-Finesse design language to date.
The interior features sumptuous leather surfaces and a huge 3D display, spanning three-quarters of the width of the interior. It features elevated traffic recognition, gesture controls, and a small hologram on the centre console. The general shapes and layout of things like the steering wheel may well translate into the production LS limousine.
Looking to build on the efforts of parent Toyota's Mirai, the LF-FC features a fuel-cell driveline sending 100 per cent clean power the rear wheels, with two in-wheel electric motors in the front for all-paw traction. The LS will surely feature petrol and hybrid powerplant options, as today, but with the vehicle serving as a technology flagship for Lexus and therefore Toyota, the company may well make a fuel cell option available in some regions.
The president of Lexus, Tokuo Fukuichi spoke about the stunning sedan in a statement, saying,
"Lexus wants to surprise and evoke emotion with its distinctive design and forward-thinking technology. For us, it is more than just a car, and we should exceed conventional imagination. The LF-FC expresses our progressive luxury and high-tech vision of a not-so-distant future."