Are you looking to buy a new mid-size premium SUV but want something slightly sportier? Here's an option. It's the coupe version of the Mercedes-Benz GLC.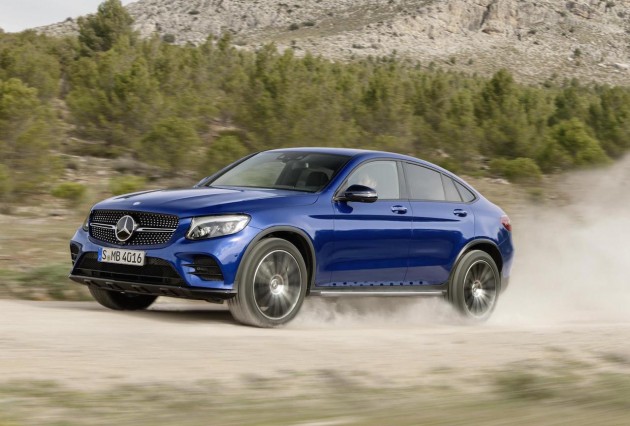 Designed as a junior version of the GLE Coupe, and as a rival to the BMW X4, the new GLC Coupe is a four-door coupe version of the latest C-Class-size SUV. It showcases a similar design as the GLC only it features a swooping roofline and coupe-like hatch at the back.
A number of variant levels are being launched, spanning from the GLC 220 d, GLC 250 d, to the GLC 250 Coupe. All are equipped with a 4MATIC all-wheel drive system and feature a turbocharged 2.0-litre turbo four-cylinder engine.
Outputs range from 125kW/400Nm, to 150kW/500Nm, and up to 155kW/350Nm. Meanwhile, 0-100km/h performance times run from 8.3 seconds, 7.6 seconds, to 7.3 seconds, respectively.
Mercedes is also launching a 'GLC 350 e' which uses a sophisticated hybrid system producing 235kW. It's able to drive on electric power alone for up to 30km, and offers a 0-100km/h sprint time of just 5.9 seconds.
Lastly, for us performance fans, there's the AMG GLC 43 Coupe which comes with a 3.0-litre twin-turbo V6 churning out 270kW. It's able to achieve 0-100km/h in under 5.0 seconds, while bringing a range of suspension, braking, and interior enhancements to suit sporty driving.
Helping to enhance the driving feel of the GLC Coupe , Dynamic Body Control or Air Body Control sports suspension will be on offer, presenting the driver with different driving modes.
Inside is a modern and sporty layout in line with the company's latest theme, with an LCD interface sitting atop the dash, a remote hand controller down on the console, and a luxury leather upholstery. Boot space is rated at 491 litres, expandable to 1205 litres.
The new model will go on sale later this year, with an Australian debut set to take place towards the very end of this year or early in 2017.