Enter the wedding bells! After all, Land Rover's latest commercial campaign is plainly a marriage, albeit a polygamous one. Numerous multimedia platforms intertwine in The Vanishing Game, a Tumblr mini-novel that the British car brand has just published in order to laud the self-proclaimed adventurous character of its product line. Compatriot and prizewinning author William Boyd penned the words of what was to become a digitally refined stimulus to the web surfer's senses.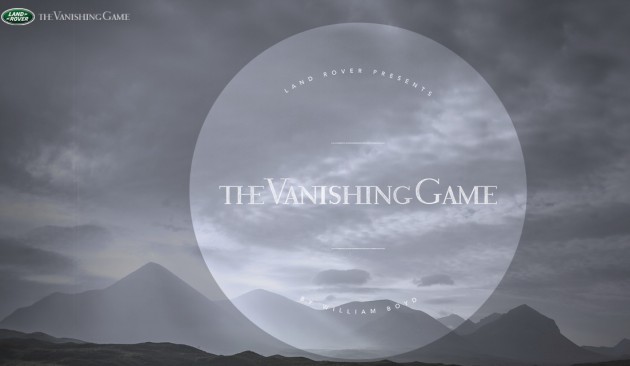 Visitors of the site turn into readers, viewers and listeners all at the same time as they enter the tale of Alec Dunbar, who drives to Scotland in a Land Rover Defender, meeting several sinister side characters on the way. The storytelling process does not only involve text, but also a voice-over, music, moving illustrations, photographs and videos.
Highlighted words appear to be gateways, leading the user to extra embedded content like personal stories of real-life Land Rover owners, archived online under the hashtag #WellStoried. Moreover, you can customise the story to your own digital needs. Those who prefer a more classic reading experience can switch off and reactivate the additional audio-visual data (sounds, pictures, etc.) at will.
Disclosing The Vanishing Game is just one tiny cogwheel in Land Rover's zealously spinning promotion apparatus. This marketing operation encompasses different media partners, who will all continue to search new publicity options focused on user-generated content and reader interactivity. Music streaming platform Spotify, for instance, has vowed to create a playlist inspired by the story's soundtrack.
To see/hear/read The Vanishing Game yourself, visit The Vanishing Game website, or download the eBook in Apple's iBooks Store and Amazon's Kindle Store.