Tesla's share price appears to be recovering thanks to increased production of the new Model 3 mid-sizer, following a recent nosedive. Production topped 2020 units in the last week alone but it is still far behind its targets.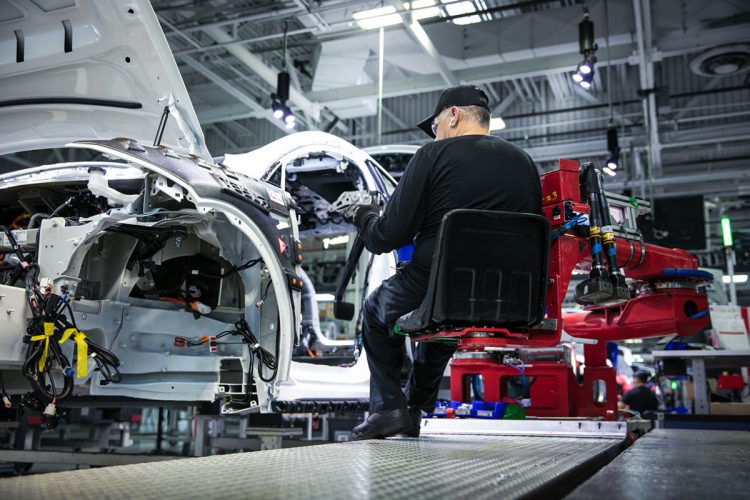 The Tesla Model 3 is a highly-anticipated vehicle. But the problem is, Tesla has received an overwhelming number of orders, said to be in the vicinity of around half-a-million. To fix this, production staff were apparently asked to step away from Model S and Model X production recently to concentrate on the Model 3.
Tesla had previously set a goal to build around 2500 Model 3s per week by the end of March. Just hitting 2000 in the last week is quite a shortfall, but the company is certainly trying. Company boss Elon Musk has reportedly been sleeping at the factory to get on top of production delays and hiccups as soon as they happen. Musk was known for doing this back when the Model X was being launched to ensure it could reach its production targets. In a recent Automotive News report, Tesla is quoted as saying:
"Tesla continues to target a production rate of approximately 5000 units per week in about three months, laying the groundwork for Q3 to have the long-sought ideal combination of high volume, good gross margin and strong positive operating cash flow."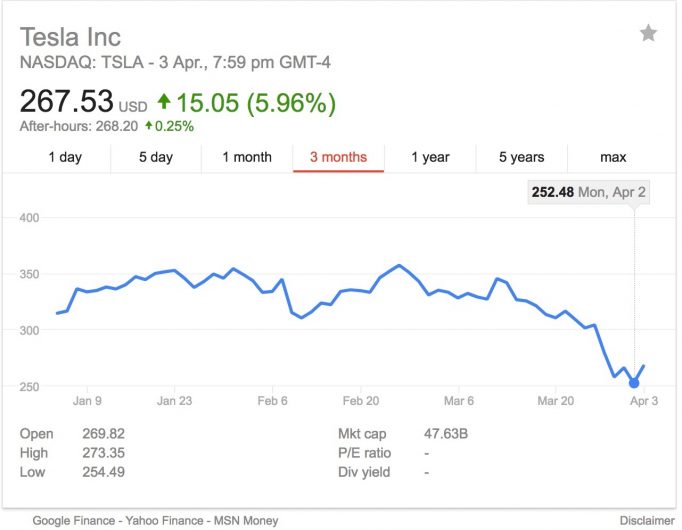 As a result of the recent uplift though, it seems Tesla's share price is on the mend following a big drop in the first quarter of this year. On February 26 the share price hit US$357, which was the highest for the year so far, but dropped as low as $252 a couple of days ago. It's believed the drop was due to a fatal crash last month involving a Model X running on Autopilot. A recent voluntary recall for the Model S associated with its steering system also didn't help. At the time of writing the price seems to be on the rise, at $267. The highest the company has ever been is $385, back in September las year.
Right-hand drive production of the Model 3 is still scheduled to commence in 2019 according to the company's website, which means Australians should start to see their orders then. However, if production is unable to reach the 5000-unit-per-month target over the coming months we might have to wait a little longer before it finally arrives.