Forza Motorsport 4 is now officially out in Australia. And now that we've played it for a bit, we can tell you what it's like. Let's kick off the Forza Motorsport 4 review by answering some questions that need to be answered regarding the new game: Are there more cars in Forza Motorsport 4 compared with Forza 3? What are the standouts? And do they sound and feel as they should?
Also, is the actual gameplay – realism and playing options – an improvement over Forza 3 or just an extension with more cars and tracks?
Well, we'll go in reverse, because straight out of the box, after some installation kerfuffle (two discs), the gameplay is certainly different and evolved from Forza 3. The first thing we notice in Forza Motorsport 4 is the cars seem to feel quicker during gameplay, and the sensation of speed is heightened.
In Forza 3, if you jumped into a standard Porsche 911 or BMW M3, the car seemed a bit slow. And then when you made that first turn-in, the tyres would slide all over the place. We drove an E39 BMW M5 as one of the first test drives in Free Play, Hot Lap mode, and it felt like an M5. It felt bloody quick, and it handled good.
Then we jumped into a Bugatti EB110 – one of my personal favourites – and it felt really fast. You definitely get a sensation of speed with standard performance cars. In the previous game, you only ever got a decent sensation of speed once you upgraded the cars. So to answer, yes, the realism is there and it has moved on from the old game; it's not just a tweaked Forza 3 with more cars and tracks.
Some of the menus and the in-game navigation can be a bit confusing to grasp, including the Career Mode and working with Xbox Live – ForzaMotorsport.net were having some troubles with its server as well, possibly due to everyone wanting to upload their videos and images.  We get the feeling Turn 10 could have made it all a bit more user-friendly. Of course, you do get used to it after a while, it is a very big game after all.
Are there more cars in Forza Motorsport 4 compared with Forza 3?
Yes. There are loads of cars. Including add-on cars such as the 2012 BMW M5, Koenigsegg Agera, Ruf RGT-8 and Tesla Roadster Sport that you can download as a Launch Bonus Car Pack, but you need to have your Xbox 360 connected to Xbox Live online for these. Speaking with EB Games, there is going to be more downloadable car parks and special features continuously released over the next year or so too. Just like Forza 3.
There's everything in the standard list that you could possibly want though, including old-school classics and modern supercars, such as the Bugatti Veyron, Fiat 131 Abarth, a Bertone Mantide (actually quite quick), Chevrolet El Camino SS 454 ute and heaps of other retro Chevs, Pantera De Tomaso, DMC DeLorean, Dodge Viper SRT10 ACR, Ford RS200 Evolution, Lamborghini Sesto Elemento, Lancia Stratos/037 and Delta Integrale, Lexus LFA, McLaren MP4-12C, Mercedes-Benz 190 Cosworth Evolution, Toyota Celica GT-Four, Subaru 22B STi, Volvo 242 Turbo Evolution, Volvo S60 T6 R-Design and plenty, plenty more.
What are the standout cars, so far?
We haven't had a chance to sample every make and model, but some cars that stood out are the Bugatti EB110 – we can only imagine what it will go like with some upgrades and tuning, the old-school Audi Quattro screams in true five-cylinder form, while the Ferrari 250 California is cool to just cruise around in, take in the scenery while peering around the open-top cabin with the head turn mode, as well as listen to that beautiful engine.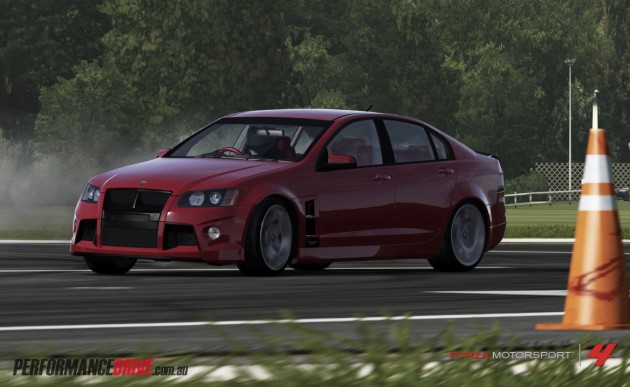 And do they sound and feel as they should?
In most situations, yes. For some cars, driving characteristics seemed a bit off. With the HSV W427 for example, there was an unusual amount of understeer compared with most other cars in the game. But we found only a few select vehicles were like this. Overall, all cars do have a unique and separate character, making each car different.
There's an optional clutch mode when you select the manual transmission too. It's a bit tricky at first, but loads of fun, as you can pull all kinds of antics, such as doing launching starts in 2nd, flat changing and dipping the clutch mid-corner (take a look at the HSV W427 video below for a quick demo of the clutch. We're sorry about the length, there were lots of hassles getting the video uploaded – more on that below).
Most cars do drive very well. Drifting and powerslides are also fairly easy to get a grasp of, without being too easy; it won't automatically straightened-up the front wheels for you after a slide, like early Gran Turismo games; but it's not too sensitive either, turning every car into tank-slapper. It's a great compromise.
Forza Motorsport 4 is definitely worthy of carrying on the Forza name and it is an evolutionary step rather than simply some extra cars and tracks. The graphics are also top notch, as you'd expect, as are the sounds of cars, from screaming V8s to sneezing and chattering wastegates.
One criticism to the new game is the difficulty of uploading replays and movies to your computer. You can only upload one movie onto the ForzaMotorsport.net website through your My Forza account, and movies are limited to 30 seconds. Why you can't simply transfer replays onto a USB stick, despite the Xbox 360 having two USB ports, is beyond us.
The Forza website was also having troubles with its server while we were trying to upload movies, possibly due to an overload of other gamers trying to do the same thing.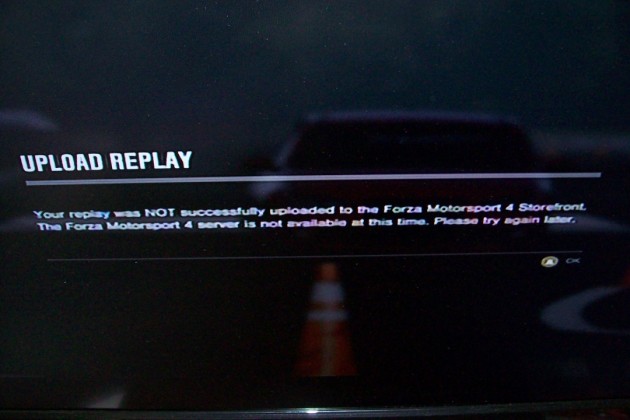 Overall however, Forza Motorsport 4 is a highly recommended game for all car and driving enthusiasts. Now, we have to try and save up enough credits to tune this EB110.
Click play on the video below for a quick 30-second demo of the 1973 Ford XB Falcon GT in Forza 4 on the Top Gear test track.