A spanking new Ferrari F12 Berlinetta has been involved in a crash over the weekend – possibly the first-ever F12 crash – in Guangzhou, China. It might be a rather minor one but it still leaves you gritting your teeth in despair. To make matters worse, the car was apparently just three days old.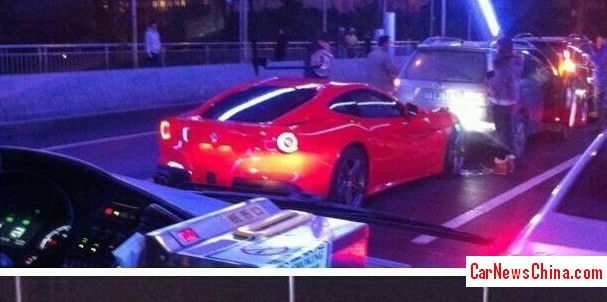 In case you have forgotten, the new Ferrari F12 is the most powerful production car Ferrari has ever made. It comes with a 6.3-litre naturally aspirated front-mid-mounted V12 engine producing a massive 545kW of power and 690Nm of torque. It's able to cover 0-100km/h in just 3.1 seconds.
From the images, first published by CarNewsChina, the crash doesn't look like it was a big one. The driver appears to have rear ended an MPV of some description, leaving the poor Fezza with a crushed up nose.
Although official word from authorities haven't yet indicated, it is believed nobody was injured in the crash. The official cause is also not yet know.
As for the car, the F12 will most certainly need a new front bumper bar and bonnet. Hopefully, for the owner's sake, nothing serious under the bonnet has been damaged.
The Ferrari F12 is now on sale in Australia, with prices starting at an eye-opening $691,100.