A lot of manufacturers are not only planning a big presence at this year's Goodwood Festival of Speed, a number of them are also planning to unveil all-new models. Ford, for instance, will debut the Ford FF1 road-legal racer.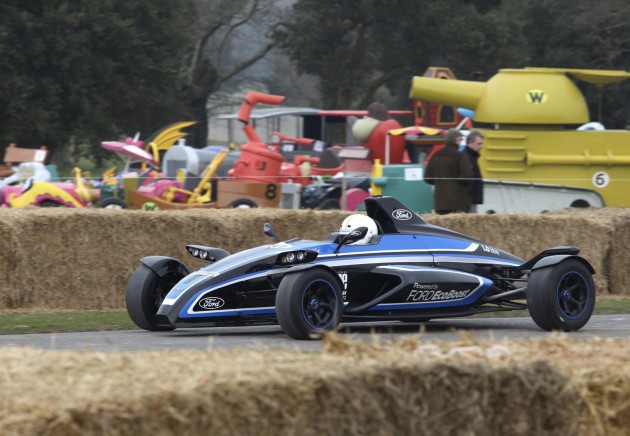 So, what is the Ford FF1? Think of it as a modern Formula Ford open-wheeled racing car with lights and a number plate. Yes, it's basically a track-ready lightweight garnished with the bare minimum to make it road legal.
In the back sits Ford's latest 1.0-litre EcoBoost turbo three-cylinder engine. In the race version, the unit produces a surprisingly powerful 151kW. That might not sound like much in terms of your everyday sedan, however, in the lightweight FF1, it will provide a supercar-eating power-to-weight ratio.
Ford says that on the Nurburgring the package has set an incredibly quick time of 7:22, which is quicker than many really high-end exotics such as the Pagani Zonda F, Ferrari Enzo, and the Porsche 911 GT2.
Despite the awesome performance the FF1 can offer an average fuel economy rating of just 2.8L/100km. It's amazing to think this kind of consumption is available along side a top speed of 257km/h.
The Goodwood Festival starts on July 11. Market entry details and prices are expected to be announced then.