If the Ford GT isn't already special enough, Jenson Button is selling his white and blue-striped example, which might take your fancy. Tuning specialist Project Kahn currently has the exotic low-slung American supercar up for sale.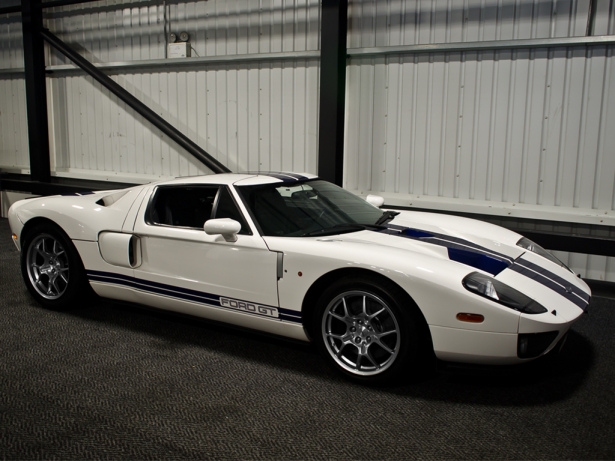 Understandably, with Button's busy F1 schedule, the Ford GT only has 5600km on the clock. Button has had it since buying it new in 2006, and it sits in immaculate condition.
Like all Ford GTs, it features a 5.4-litre supercharged V8 offering 410kW of power and 678Nm of torque. It'll sprint from 0-100km/h in around 3.3 seconds and has a top speed of 341km/h. The speed is partly thanks to the elegantly low-profile body which was inspired by the original Le Mans Ford GT40 race cars.
Project Kahn company owner Afzal Kahn says about the sale,
"It's exciting to have such a rare and great vehicle in stock – this one is certainly in a league of its own. It's a really good investment with the current value increasing by ten per cent each year, and since it was owned by Jensen Button, it's perfect!"
Asking price? Well, taking into account this is a rare supercar already, let alone one being owned by an F1 Champion (2009), it's priced quite reasonably at GBP130,000 (approximately AU$205,000 after a straight conversion).
Hmm, we wonder why Button isn't simply leaving it in his shed as a collectible, it's not like he'd need the money.
Follow this Kahnnews link for the full and more details of Jenson Button's Ford GT for sale.