O come all ye Porsche-faithful, for your favourite German car brand has recently launched a new merchandising line that is bound to conquer your Christmas wish list. Having agreed to supply Santa with enticing titbits at various prices, Porsche deliberately shoots its sharpened marketing arrows at every possible age group.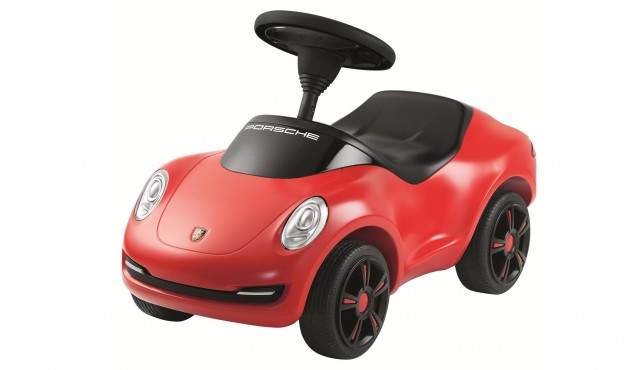 And yes, that holds true for your toddler too. For £107 (about AU$200), you could buy the car-crazed kiddie what must be the cheapest 911 Carrera 4S in history. Luckily, this vehicle in red or turquoise does not require a license, but only some stout muscles to move it across the race-track – sorry, floor.
If you prefer handling a Porsche yourself without stealing your kid's push car, oil your money press and start printing £150 (AU$277). Next, exchange these crisp bank notes for the Taste of Porsche experience, which includes a twenty-minute drive in a 911 Carrera (the real one), an equally long trip with the Cayman GTS, a Cayenne demonstration and a Panamera ride. In order to gastronomically ease your inner petrol rush, the arrangement also covers a three-course lunch for two in the Porsche Restaurant.
The Driver's Selection, on the other hand, aims to complete devotees' couture-clad coat hangers with Steve McQueen lambskin coats (£540/AU$1000) and rugby shirts (£75/AU$140). Furthermore, there are gadgets and gizmos aplenty in this special Yule assortment. Check how long you have to wait until the next Endurance Championship race by glancing at your £470 (AU$874) 911 Turbo Classic wristwatch, and save the fuel-flavoured footage afterwards on your £35 (AU$65) Porsche USB stick (available in 918 Spyder, 911 Carrera or Macan Turbo model). Not cool enough for you? Then, by all means, stick to the original meaning of that word and go for the £10 (AU$18) 911 ice cube set.
Of course, a real Porsche under the Christmas tree would be the most spectacular and hoped-for present of all. Perhaps you could start living your dream by purchasing a pine of sufficient height before you write a cheque to sponsor our beloved bearded benefactor. At least $200,000 should do the trick. You're welcome.