The first shipment of the highly anticipated 2016 Mazda CX-9 SUVs have touched down in Australia, just ahead of the local market entry in July.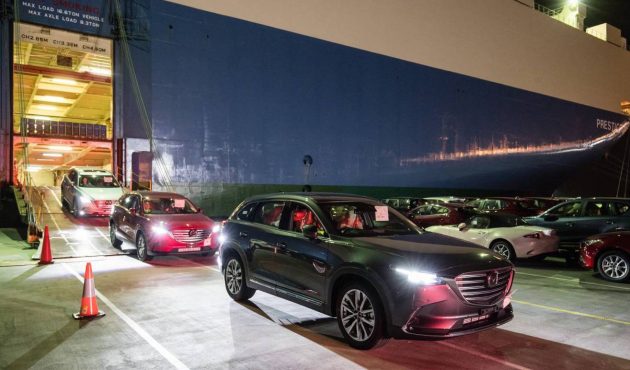 The first vehicles aren't customer orders though. Instead, they will be used as part of the official media launch and part of a dealer event to introduce the new model.
As previously reported, the new CX-9 will be available in Australia in four different trim levels, spanning from the Sport, Touring, GT, and Azami. All feature a brand new 2.5-litre turbocharged petrol engine producing 170kW and 420Nm.
Fuel economy has been significantly improved over the existing and very thirsty 3.7-lite V6, dropping from 11.2L/100km to just 8.4L/100km in the new front-wheel drive versions (8.8L/100km for AWD). This alone should place the CX-9 in a much more attractive position within the demanding seven-seat SUV segment in Australia.
In fact, Mazda Australia says consumers are already showing keen interest for the new model. There has been 55,000 sales leads and 13,000 priority call requests. This makes it more popular than the latest MX-5; 34,000 and 9700, respectively. Mazda Australia marketing director Alastair Doak said:
"We had record interest in Mazda MX-5, but the response to Brand-New Mazda CX-9 has been remarkable. Never have we experienced such pre-launch interest in a Mazda nameplate. This gives our sales team a fantastic starting platform, with the goal being to turn as many of these potential buyers into CX-9 owners."
So far this year Mazda Australia has sold only 562 examples of the existing CX-9. This gives it a 1.5 per cent market share, going up against the likes of the Toyota Prado (13.5 per cent) and Kluger (10.3 per cent).
We'll bring you all of the details, including pricing, and a review of the new model as soon as possible.