An image has surfaced online showing the full view of the rear of the upcoming Ferrari F12 Speciale, previously thought to be called the GTO.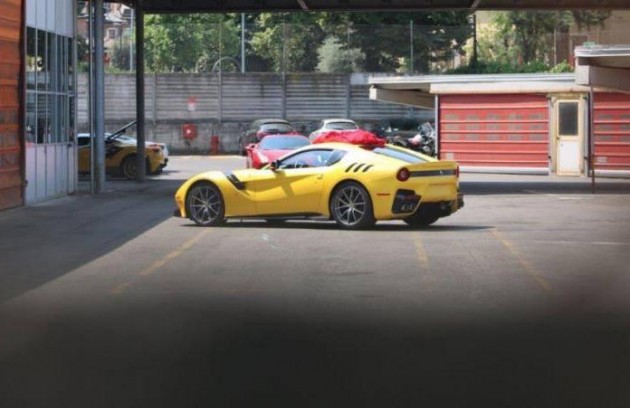 This image proves the previous digital images were actually very accurate. The car appears to be wearing no camouflage as it trundles about at the company's headquarters in Modena.
From the image, you can see the Speciale – name not yet officially confirmed – extends on the F12's body with a carbon fibre bodykit. There's a new front lip, side skirts, and a revised rear diffuser section.
Interestingly, the gills in the rear haunches do seem to exist. These were revealed in the earlier digital images. They hark back to cars like the Ferrari 288 GTO. There also appears to be a carbon strip over the front wheels.
No further mechanical specs have been revealed at this stage. As far as we know the car will come with a tweaked version of the standard 6.3-litre V12 engine, with output believed to be lifted from 545kW to around 570kW.
Of course, the carbon fibre bits and pieces are expected to reduce the car's overall weight. Reports suggest a weight reduction of up to 200kg for the grand touring beast, which would obviously have a huge influence on the car's speed, acceleration and handling. The standard version already hits 0-100km/h in just 3.1 seconds.
All full debut is set to take place at the Frankfurt Motor Show in September. Judging by the 'readiness' of this prototype, Ferrari might even unveil the car online shortly beforehand. Stay tuned.