It looks like the new Ferrari 488 Pista could be a seriously quick bit of gear. Well, we all knew it would be quick, but initial tests have shown a 0-100km/h times in the low two-seconds range.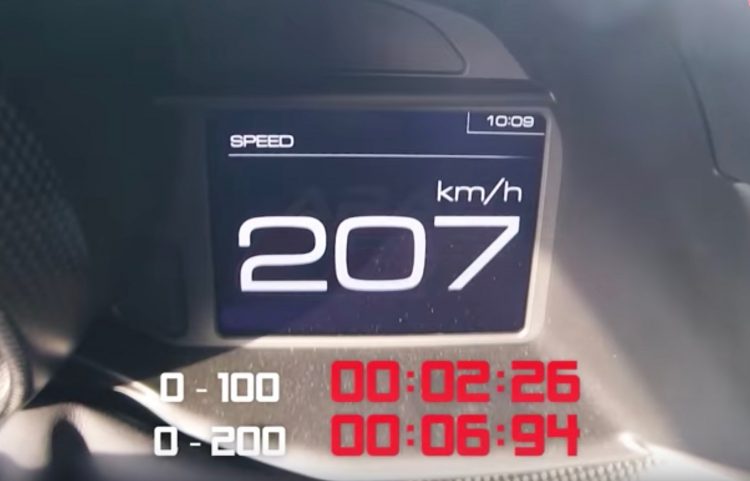 Officially, Ferrari claims the new 488 Pista will cover the sprint in just 2.85 seconds. However, a video has surfaced online showing a real-world result of just 2.26 seconds using an early pre-production vehicle.
The credibility of the test result is a bit hazy at this stage. We don't know if the vehicle was tested on a flat surface, and we don't know if the tester was using a GPS-based timer or simply relying on the speedo readout. If it was tested simply relying on the speedo readout, it will be inaccurate. All factory speedometers are out by at least five per cent, on purpose. This is to ensure the carmaker cannot be sued if the owner ever decides to challenge a police speed check by saying the speedo indicated a particular speed.
On the other hand, the new variant certainly has the potential to set ground-breaking acceleration numbers. Power comes from a 3.9-litre twin-turbo V8 that generates an enormous 530kW and 770Nm. Considering the car weighs just 1280kg (dry), the extreme power-to-weight ratio means it could be capable of such acceleration.
Ferrari claims the 488 Pista will cover 0-100km/h in just 2.85 seconds, and cover 0-200km/h in just 7.6 seconds. According to YouTube channel ArabGT, the car could be capable of 0-200km/h in just 6.94 seconds. This would make it one of the quickest-accelerating production vehicles the world has ever seen.
For reference, the LaFerrari comes with a claimed 0-100km/h time of 2.4 seconds, and 0-200km/h in just under 7.0 seconds. Could the 488 Pista be quicker than its big brother? We'll have to wait for more tests to surface before setting this one in stone. Check out the video below to see for yourself.