German automotive tuning specialist Edo Competition has released the E60 V10 BMW M5 Touring Dark Edition performance pack for for previous-generation V10 M5 wagon. Now this is what you call a family car. It's got attitude, with visual enhancements, and Edo Competition has extracted more power from that awesome 5.0-litre V10 under the bonnet.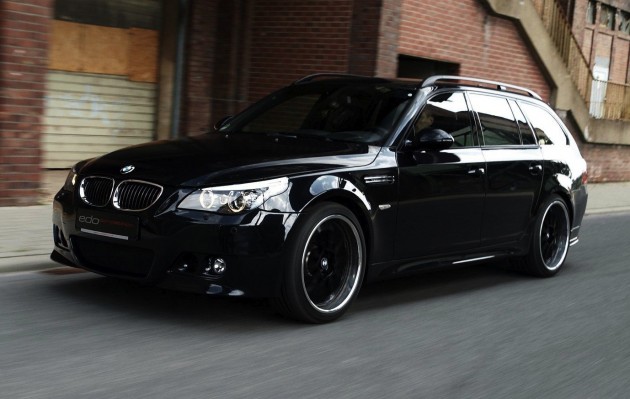 The standard BMW M5 S85 V10 engine is already a serious powerhouse, creating 373kW of power at 7750rpm and 520Nm of torque available at 6100rpm. The engine is able to scream out to a redline of 8250rpm. It is, surely, one of the coolest production wagons money can buy. With an Edo Competition Dark Edition tuning pack, it is one of the coolest wagons money can buy.
Edo Competition tunes the engine by remapping the engine ECU, adding a high-flow air induction filter and a larger exhaust system with high-flow catalytic converters. The end result is a mighty 405kW and 560Nm. In standard form, the BMW M5 Touring is able to do 0-100km/h in around 4.7 seconds, after Edo Competition has fettled with the engine, it's able to achieve the sprint in 4.2 seconds.
As for the top speed, almost all production cars in Germany are fitted with a 250km/h speed limiter, even so, some reviews have been able to get the car beyond 270km/h. Edo Competition doesn't stuff around though, and so the limiter is removed and top speed is now rated at 305km/h.
The kit doesn't stop in the engine bay though, the Dark Edition also comes with a tidy bodykit including new front and back spoilers and extensions, as well as a set of matching black 20-inch alloy wheels with 255/35 tyres on the front, and 285/30 tyres on the rear.
Inside can be tastefully revised at the owner's discretion. Edo Competition can fit soft new leather or carbon fibre trimming pieces. The main change, or the most prominent change, inside though is a new 360km/h Edo Competition speedo, just in case passengers are unaware of the ferocious V10 under the bonnet.