The crew over at HMS Motorsport have completed work on the awesomely insane 'GT4586', a Toyota 86 that underwent a pretty serious Ferrari V8 engine conversion.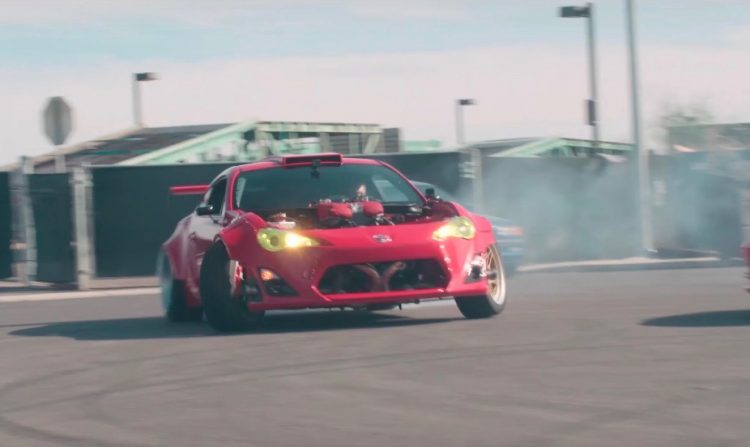 We reported back in July that Ryan Tuerck and HMS Motorsport were well underway on the radical engine swap, now though, we've got eyes on the finished product.
Under the (lack) of bonnet, the 2.0-litre four-cylinder boxer engine has been removed in favour of a Ferrari F136 V8. This engine powers cars like the 458 Italia and its Speciale variant, Maserati Gran Turismo and formerly the Quattroporte and Ferrari F430 and California models.
We digress. The Gumout GT4586 JDM Supercar, as professional drifter Ryan Tuerck has nicknamed it, has been making its way around YouTube after Donut Media published this clip of it doing burnouts around a car it shares powertrains with, a Ferrari 458 Italia. The acoustics are a particular standout.
In respect to the F136's V8 sound, Ryan Tuerck explains that: 'to keep the amazing sound that this motor makes, we wanted to make sure the headers are as similar as possible, or the same that it comes from Ferrari in the 458."
Ryan left it up to Ferrari to produce the exhaust system to keep the engine note authentic: "They've got their work cut out for them, I don't know how it's going to happen but I'm just pushing them to do it right, do it proper and make sure this thing sounds as good as it can."
If you're thinking that mounting a V8 engine – predominantly mounted behind the driver – into a car designed to accommodate a four-cylinder front-mounted engine would prove to be a bit of an engineering nightmare, you're absolutely right. There wasn't enough room to fit any cooling up front so Ryan and the team mounted a radiator around the back and fitted an air intake scoop on the hood. The GT4586 is also missing a bonnet so the engine gets a bit of good old-fashioned air-cooling.
The team had to cut away parts of the windshield frame in order to house the massive air intakes, install a custom-made carbon fibre induction box and mount the F136 V8 backwards, with the engine sitting much higher due to the overhead cams. Check out the videos below for more. What a beast.