An image has surfaced of what looks like a Bugatti Chiron looking a little worse for wear, with the $2.6 million supercar being towed after a crash.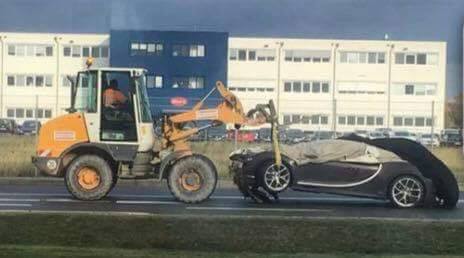 The image was first published on GTBOARD's Facebook page, and despite the poor quality we can see that this is a Chiron, not Veyron, being towed. The fact that's it's being towed in this manner by a tractor and with sheeting over the car suggests this isn't a customer's car… Or at least we hope not.
Instead, we're thinking the Chiron pictured had recently undergone crash testing, a compulsory part of registering a passenger car for use on the road. While we're not 100 per cent, the blue building in the background with small red oval shape is identical to the Molsheim manufacturers's logo.
Production of the Chiron was said to have commenced in September, with Bugatti capping producing numbers at 500 units. The mid-engine hypercar is powered by a quad-turbocharged 8.0-litre W16 unit producing 1103kW of power and 1600Nm of torque, delivered to all four wheels.
The Chiron, like its predecessor the Veyron, has a full carbon fibre body structure, which should perform well in crash tests thanks to the added structural rigidity, however, the just under two-tonne (1996kg) kerb weight would add some serious inertia in a collision.