VFACTS has released the national vehicle sales figures for Australia for August 2015, and so far this year the stats show locals have bought 3.2 per cent more vehicles compared with the same eight-month period in 2014.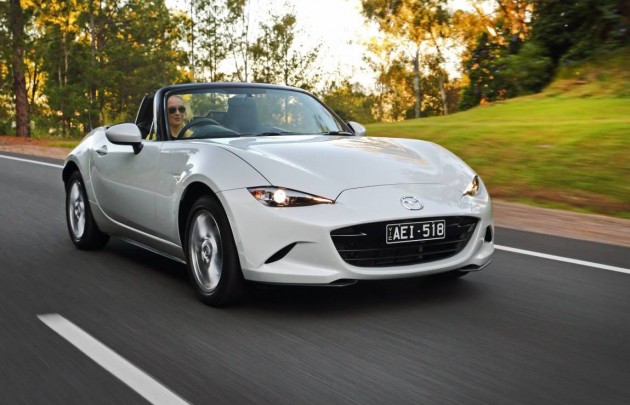 Once again SUVs are the flavour of the month, with SUV sales jumping 19.4 per cent compared with August last year. Small SUVs were particularly popular, showing a 51.3 increase in popularity. Passenger car sales dropped 4.6 per cent while light commercial vehicles sales dropped 6.1 per cent.
In terms of the most popular car brands, Toyota is obviously once again at the top. Interestingly, Hyundai overtook Mazda for second place, while Holden remains in fourth. Volkswagen also shifted up a gear, going from eighth place in July to seventh in August. The top 10 brands for August 2015 were as follows:
Toyota – 14,505 (down from 16,840 of July 2015)
Hyundai – 9505 (up from 8511)
Mazda – 9166 (down from 9356)
Holden – 7870 (down from 7895)
Mitsubishi – 5574 (up from 5189)
Ford – 5354 (down from 5747)
Volkswagen – 4794 (down from 4908)
Nissan – 4731 (down from 4937)
Subaru – 3361 (up from 3354)
Honda – 3210 (up from 3047)
As for the best-selling vehicle make and model, we saw some changes to the top five. The humble Holden Commodore has moved into third place, pushing down the i30 from July. Rounding out the top five is the Ford Ranger, which shoves out its arch rival, the Mitsubishi Triton. Strangely, the Toyota HiLux is nowhere to be seen in the list. The top five models in terms of outright sales for August 2015 were as follows:
Toyota Corolla – 3050 (down from 3573)
Mazda3 – 2673 (down from 2825)
Holden Commodore – 2144 (up from 2030)
Hyundai i30 – 2098 (down from 2750)
Ford Ranger – 2096 (up from 2013)
Starting with the Medium Cars under $60,000 class, it is the Toyota Camry that continues to show them all how it's done. The nameplate was registered on 2095 occasions in August, easily out-numbering the runner-up Mazda6's effort of 377. The Subaru Liberty rounded out the top three with 324 sales.
In the executive market in Medium Cars over $60,000, the Mercedes C-Class shines the brightest. BMW has regained second place though, overtaking the sporty CLA-Class, while the Audi A4 and Lexus IS remain very similar. Jaguar could be one to watch in this segment, with the new XE just launching (60 new registrations in August) and already showing promise. The top five in this segment were as follows:
Mercedes-Benz C-Class – 838 (down from 853)
BMW 3 Series – 407 (up from 393)
Mercedes-Benz CLA-Class – 314 (down from 439)
Audi A4 – 155 (down from 163)
Lexus IS – 148 (down from 156)
Over in the Aussie-made sedans in the Large Cars under $70,000 segment, Holden looks like it will be the only company to close production on a high note. Holden sold 2144 Commodores in August, followed up by just 502 Ford Falcons, and 261 Toyota Aurions.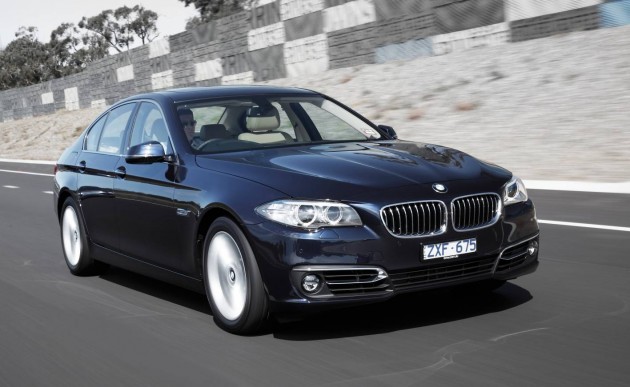 Stepping up into the Large Cars over $70,000 class, the BMW 5 Series is holding onto the lead. While its arch rival, the E-Class, sits in second place the Audi A6 has crept up into third from the previous month's fifth position. Both the Mercedes CLS-Class and Maserati Ghibli are neck and neck in fifth. The top five in this segment were as follows:
BMW 5 Series – 125 (up from 124 of July)
Mercedes-Benz E-Class – 73 (down from 91)
Audi A6 – 39 (down from 43)
Jaguar XF – 27 (down from 52)
Mercedes-Benz CLS-Class – 26 (down from 60)/Maserati Ghibli – 26 (up from 25)
Over in the Sports Car under $80,000 category,the Hyundai Veloster has skyrocketed the top place. It sold what must be a record 680 examples during August. This was easily enough to double the runner-up Toyota 86's efforts. The new Mazda MX-5 is also off to a cracking start, jumping straight into third place in its first month on sale – this will be one to watch. The top five models in the category were as follows:
Hyundai Veloster – 680 (up from 170)
Toyota 86 – 241 (down from 227)
Mazda MX-5 – 220 (up from 37)
BMW 2 Series Coupe/Convertible – 190 (up from 178)
Holden Astra Sport – 90 (up from 75)
(Subaru WRX – 251 [down from 271] – not officially in this segment)
Into the Sport Cars over $80,000 category, Mercedes-Benz must be doing some run-out special deals of the existing C-Class Coupe before the new model arrives. It stood on top of the class in August, jumping from the previous month where it wasn't anywhere to be seen in the top five. The top five in this category were as follows:
Mercedes-Benz C-Class Coupe – 267 (up from 36)
BMW 4 Series Coupe/Convertible – 143 (equal)
Audi A5 – 49 (up from 61)
Audi TT – 48 (down from 54)
Mercedes-Benz E-Class coupe/convertible – 45 (down from 72)
Up in the pinup poster Sport Cars over $200,000 segment, Ferrari sales are going strong for a bespoke marque. The Italian maker couldn't fend off the Porsche 911 though, which remains in top place. Aston Martin sales were impressive too, slotting into fourth. The top five in the category during August 2015 were as follows:
Porsche 911 – 27 (down from 33)
BMW 6 Series – 23 (up from 15)
Ferrari (models not specified) – 14 (up from 12)
Aston Martin (models not specified) – 9 (up from 7)
Mercedes-Benz S-Class Coupe – 8 (down from 9)/Lamborghini (models not specified) – 8 (down from 9)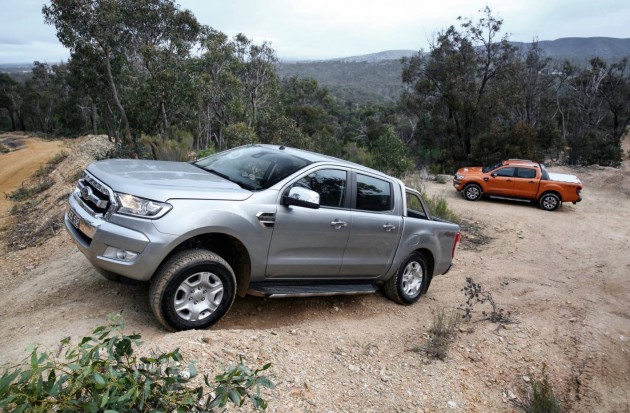 As for the tradies 4×4 ute class, surprisingly the Toyota HiLux sits way down in third place. The Ford Ranger (1740) and Mitsubishi Triton (1709) outsold the popular HiLux (1674).
For Combined 4×2 and 4×4 ute sales, it is a similar story. The Toyota HiLux is out of the lead. This could be due to the new model launch being just around the corner. Ford moves into top spot with the Ranger, with the Mitsubishi Triton in second. Isuzu has worked its way up from seventh to fifth. The top ten 4×2 and 4×4 combined figures for August 2015 were as follows:
Ford Ranger – 2096 (up from 2013)
Mitsubishi Triton – 1991 (down from 2238)
Toyota HiLux – 1956 (down from 2579)
Holden Colorado – 1300 (down from 1369)
Isuzu D-Max – 1106 (up from 1080)
Mazda BT-50 – 1064 (down from 1334)
Nissan Navara – 871 (up from 865)
Volkswagen Amarok – 576 (up from 534)
Foton Tunland – 84 (equal)
Ssangyong Actyon Sports – 6 (up from 5)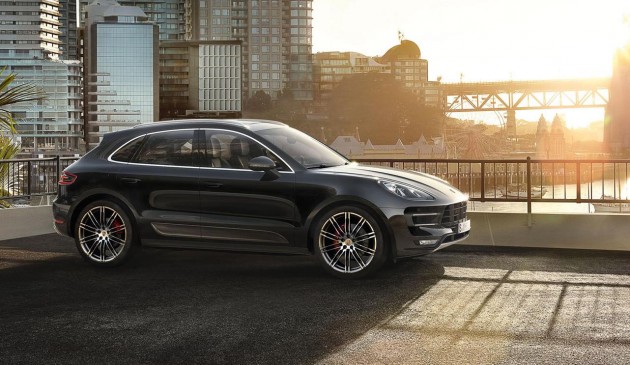 It seems the SUV segments are getting the most attention from buyers. Hyundai managed to sell 1967 examples of the ix35, despite being out of production, while the Lexus NX is soaring ahead in the premium small SUV class.
Up a size and we see the Mazda CX-5 is still king of the land, while the Porsche Macan has stepped up to the plate and taken honours in the premium mid-size class. Premium medium-size SUV sales are up an impressive 30.1 per cent year-to-date.
In the larger categories, the Toyota Kluger is maintaining its dominance, although the Subaru Outback is snatching at its heels. The BMW X5 leads the way for the premium large SUVs, with the Volkswagen Touareg posting good figures. In all SUV segments the top three most popular models during August 2015 were as follows:
Total new vehicle sales in Australia in August were down on July's efforts. During August, Australian buyers purchased 90,705 vehicles, compared with 92,308 in July. Sales were up 2.9 per cent compared with August 2014, and year-to-date figures are up 3.2 per cent.
In terms of what fuel type buyers went for in August, more buyers chose electric vehicle types over LPG, showing a potential increase in popularity. The figures for private buyers in terms of vehicle fuel type were as follows (passenger, SUV, and light commercial combined):
Petrol – 36,241 (down from 35,837 of July)
Diesel – 11,081 (down from 11,501)
Hybrid – 374 (down from 409)
Electric – 34 (down from 16)
LPG – 26 (down from 18)