You might remember last month boutique British car company Ginetta announced it was building a new car. Well, here it is. It's a hardcore track-ready supercar designed fresh from the ground up.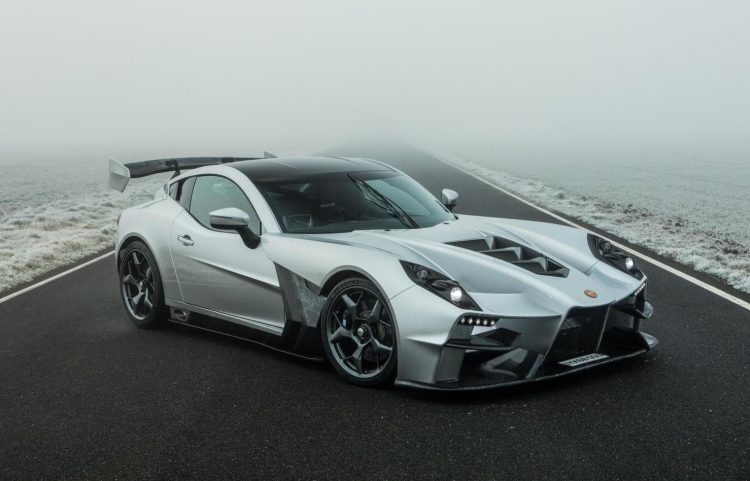 It weighs just 1150kg (dry) thanks to a carbon fibre monocoque construction, with a carbon fibre body. And that's including in-built roll-over protection reinforcements and a safety cell, which are designed to current FIA specifications.
Power comes from a 6.0-litre naturally aspirated V8 featuring dry-sump lubrication. The block is carved out of a single billet of aluminium, and uses forged liners. It's all built and designed in-house. Ginetta has even come up with its own throttle bodies.
The result? How does 450kW and 700Nm sound? Considering the weight figure, the power-to-weight ratio is epic. No figures for the usual acceleration sprints have been mentioned, but Ginetta points out that thanks to the engine's natural aspiration, the engine response is immediate and drivers can balance the car on the throttle without the need for electronic aids.
This is actually pitched as a road car, despite the crazy aero for the body. There's a huge rear wing that uses the same aerofoil shape as the Ginetta LMP1 racing car, with an insane underbody diffuser and body ducting. Slash-cut side exhausts look like they come straight from motorsport, and due to the way the nose sprouts out like an F1 car, there are at least two planes for the front wing.
Overall, Ginetta says the body is able to produce up to 376kg of downforce at 100mph (160km/h). And this is achieved without the use of active surfaces like what you might see in the more popular Italian marques.
Some of the other motorsport-like highlights include staggered wheel sizes, with 19-inch rims on the front and 20 inches on the back. These wrap around a set of carbon ceramic brakes. There's also an LMP1-inspired carbon fibre steering wheel with billet aluminium paddle shifters, as well as a fully adjustable double wishbone suspension setup. Oh, and Ginetta says the supercar also boasts a boot capacity of 675L.
At this point you're probably thinking, what's it called? Unfortunately we don't know. Ginetta says more details will be revealed at the Geneva motor show during its big debut. The company has confirmed it is planning to build just 20 units in the first year of production though, with 12 already spoken for.