If you love high-performance Audis, then this insane RS 6 will certainly get you excited. It's been put together to take part in this year's Gumball 3000 Rally, which kicks off on May 23 in Stockholm, Sweden.
Under the bonnet the RS 6 features a highly-tuned version of the stock 4.0-litre twin-turbo V8, punching out a staggering 708kW of power. Bolted up to the engine are a set of custom gold anodised TTE9xx turbos – every Gumball race car needs some bling, right?
The RS 6's exterior is also heavily modified, thanks to some inspiration from the RS 5 DTM race car. The body kit was put together by Caretso and is made of carbon fibre to keep weight to a minimum.
The car is owned by Swedish professional freeskier and alpine ski racer Jon Olsson. On Olsson's official website he says he's always loved the crazy widebody style of DTM cars, and that building a car like this has always been a dream of his.
"So I called Leif Tufvesson at Caresto (former chief engineer at Koenigsegg) and asked him if he was up for the task. We spent months trying to figure out how we could adapt the DTM look on a street going station wagon. I think what we came up with was great and I could not be more happy with it, even if it took about 4 months longer than planned."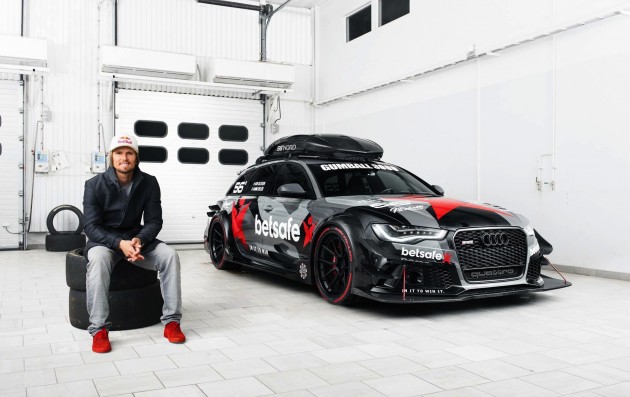 If you'd like to build your very own RS 6 project, Australian prices for the German brute start from $229,500. In standard form the RS 6 produces 412kW and 700Nm, sending power to all four wheels via an eight-speed automatic gearbox.