Footballers aren't really known for their intelligence. And when stories like this pop up, it certainly doesn't help. Liverpool FC star Andre Wisdom managed to get seriously bogged in his Porsche Panamera recently, apparently after following directions given by the sat-nav system.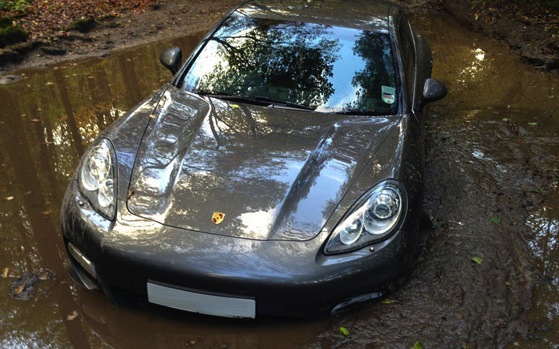 Even though it seems like a very silly thing to do, incidents like this are fairly common. Some drivers habitually follow the commands of sat-nav systems without actually making physical judgements on the direction, resulting in all kinds of wacky mishaps.
It's understood Wisdom was on his way to a game at the time, only to become stranded in the middle of nowhere in deep, wet mud. He was then picked up by people from his club.
The Porsche is all-wheel drive, however, judging by the images, even a raised SUV probably would have struggled to escape the conditions. According to a Mirror report in the UK, a mountain biker found the stranded Panamera. He said,
"It's mind-boggling how it got there – it's miles from anywhere."
Meanwhile, a club spokesman said,
"Andre visited a shop on the way to the game against Sheffield Wednesday and, being new to the area, he programmed the stadium's postcode into his sat-nav. The route provided took him down a less than traditional road, where conditions were poor."
Images were posted up on Twitter (below) showing the extent of the situation. It looks like the road wasn't really a road but more of a trail of some kind.