If someone tried to tell us 20 or 30 years ago that SUVs would not only become one of the most popular vehicle types but also highly desirable propositions in the performance and sports car arena, we'd have thought they were nuts. But, as it turns out, that's exactly what happened.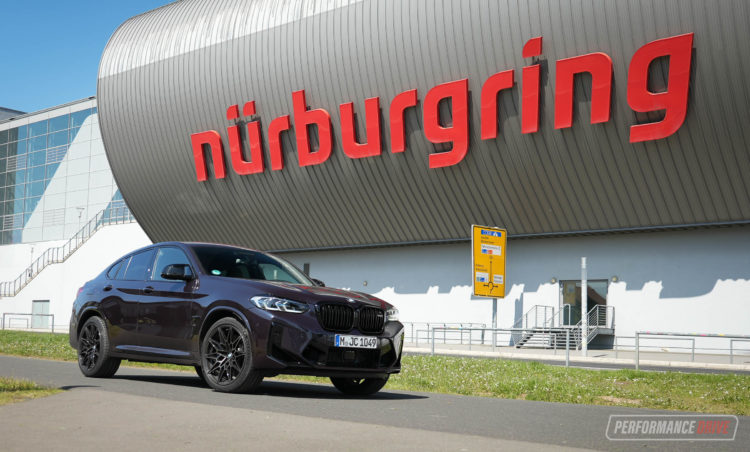 SUVs are pretty much the most popular vehicle type for private buyers, losing out to utes and pickups once you factor in the limited number of ute models available compared with the huge variety of SUVs.
You can spend an eternity going through the different styles of SUVs on offer, from models that do well off road, to models that are designed for posing, to practical-minded options, family-friendly buses, trend-setting eco models, stunning artworks, to outright speed kings. But in all, you'll find a similar underlying recipe; everyday usability and some level of multi-terrain ground clearance.
The 2023 BMW X4 M Competition is pitched right at the pointy end of 'performance SUV'. This has been designed and developed for the track and other sorts of fast-driving exercises, with handling, acceleration, and driver engagement right at the tip of its core focus.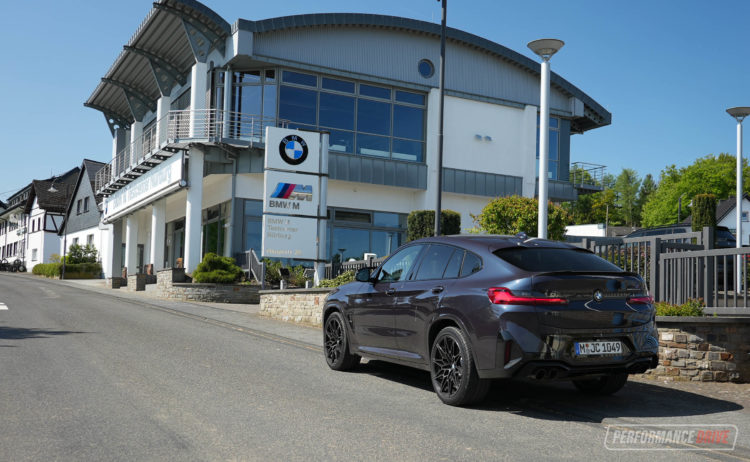 BMW introduced the latest X4 M Competition in 2021, bringing in the latest 'S58' 3.0-litre twin-turbo inline-six petrol engine borrowed from the M3/M4 Competition. It now produces 375kW and a meaty 650Nm, matched to an eight-speed automatic with M xDrive all-wheel drive.
Prices in Australia start from $182,500 (excluding on-road costs), which is a decent jump up from the initial launch price of $167,900. Rivals include the Mercedes-AMG GLC 63 Coupe ($191,800), Alfa Romeo Stelvio Quadrifoglio ($160,700), and, to a lesser extent, the Audi SQ5 Sportback TDI ($118,000).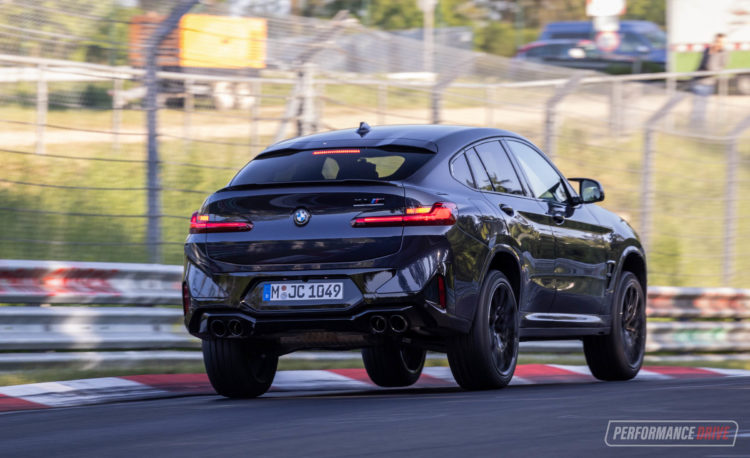 For this test we're going to concentrate on the X4 M's ability to actually go track driving. Because, surely, an SUV on the track isn't going to be much fun? And to really turn up the pressure, we're testing it on one of the most challenging circuits in the world; Nurburgring Nordschleife. This is a 20km track nestled in the Eifel mountains in western Germany, consisting of many bumps, jumps, off-camber turns, and very fast sweepers.
Firstly, you need to know how this package performs as a regular SUV. On the road, the ride is firmer than your average SUV, for sure. There is very little body roll and the steering is quite sharp and precise. More so than other SUVs, including premium ones.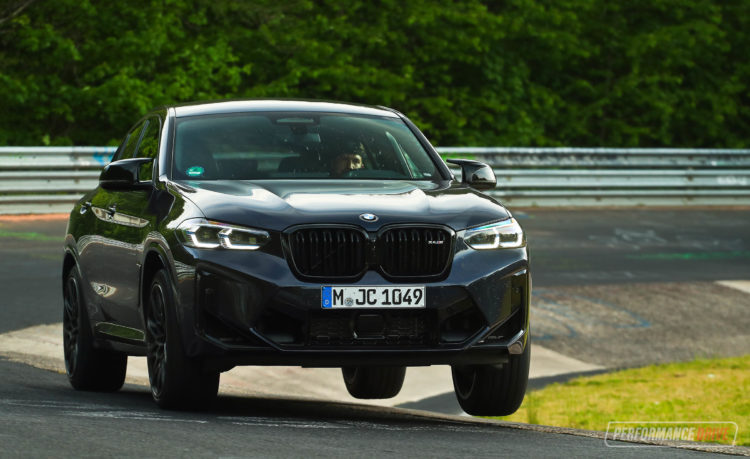 That's because the XM Competition comes with electromechanical M Servotronic steering, as well as adaptive M suspension with electronically-controlled dampers. In the standard comfort mode the steering feels sporty but light in weight, and the ride quality is taut yet rubbery enough to withstand sharp jolts and broken bits of bitumen.
Other than the ride (and engine sound), the X4 M is very conventional in behaviour; it's not intimidating to drive. In fact, it feels and looks like a regular X4 in most parts. Sure, there are strips of exotic carbon fibre across the console and door trims, and the seats and steering wheel are bespoke M features, but the overall interior layout and certainly all practicality benefits are shared with the regular X4.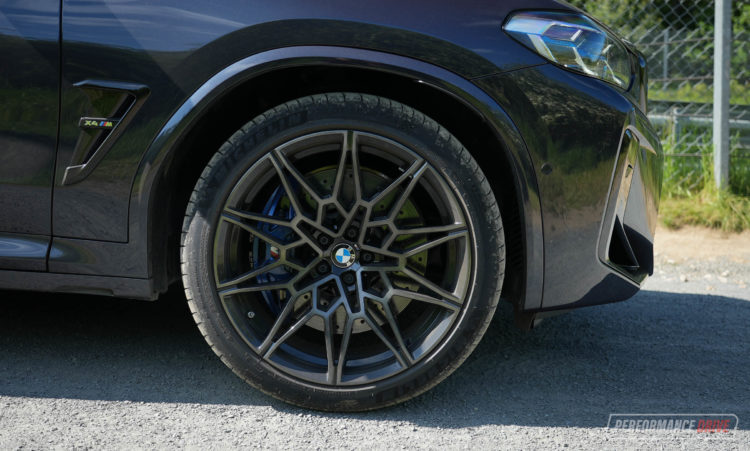 It'll drive up steep driveway entrances and clamber over speed bumps with no trouble, and you get that same sense of freedom that all SUVs provide thanks to relatively good approach and departure angles, compared with a conventional car or wagon.
The X4 M Competition goes further with user customisation in terms of driving character. There are a number of driving modes to select from as well as two fully customisable presets, accessible via the cool toggle tabs on the steering wheel, in red.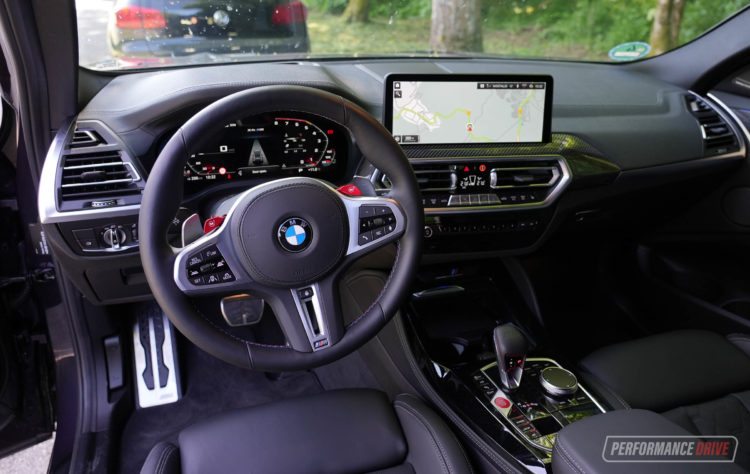 These 'M1' and 'M2' toggles can be set up to configure your favourite combination of settings, available at a trigger. You can even set up the mode to include stability control off, stop-start off, and maximum attack for the steering, engine response sensitivity, and transmission response.
As new vehicles become more and more complex, it's always nice to fall back on some simplicity every now and then. So these presets are very handy to have right at your thumbs, without having to fuss about in the multimedia interface every time your mood swings or every time the road opens up.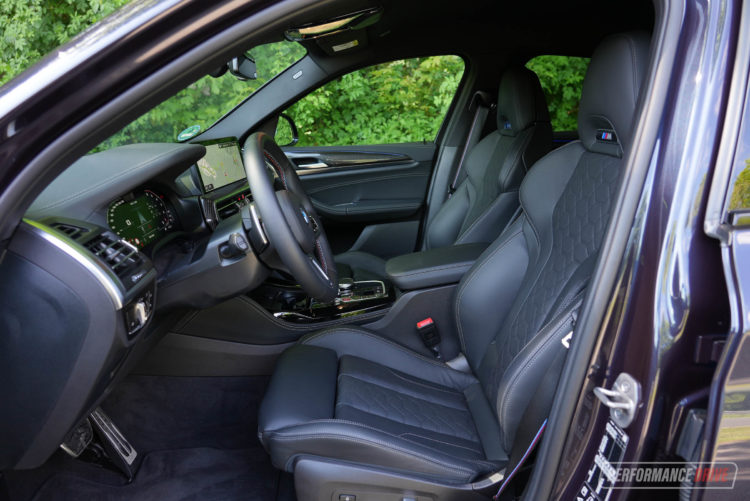 Speaking of the multimedia screen, the X4 M runs the now-superseded iDrive 7.0. This includes BMW Live Cockpit Professional with dual 12.3-inch digital screens. The instrument cluster features the M View package as well, allowing drivers to alter the display layout with three main themes, and further customisation for the smaller details.
I really like the OS 7.0 system. In fact, in my opinion, it's the last of the good setups. BMW, like pretty much all car brands now, has since moved to an even more digital display concept, with bigger screens and fewer buttons and controls. This, in my opinion, just adds distraction for the driver. Whereas the setup offered here seems to strike a good balance between technology showcasing but with convenient controls and operation.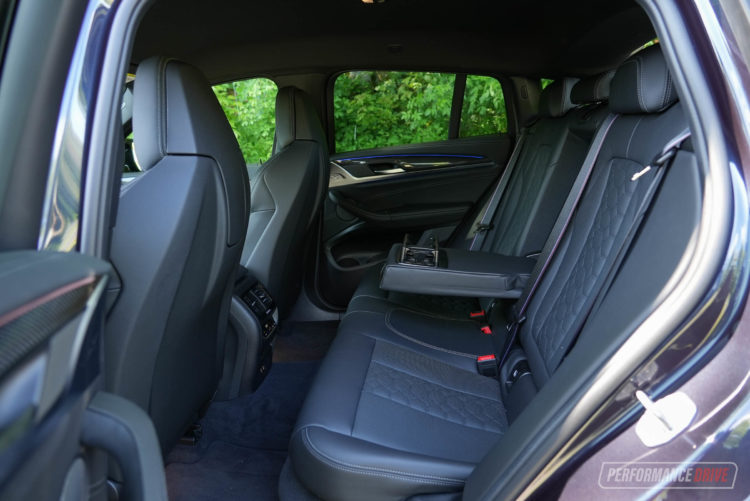 Passenger space is decent for this particular class, or at least above average. Front passengers feel comforted in being hugged by chunky sports seats, but headroom and general freedom of space and being able to move is good.
The back seat is hampered only slightly by the swooping roofline applied to the X4, but other than that, legroom is respectable for this segment and you get separate climate controls, twin USB-C ports, and very big bottle holders and storage in the door cards. There's also a flip-down centre arm rest and cup holders for added convenience.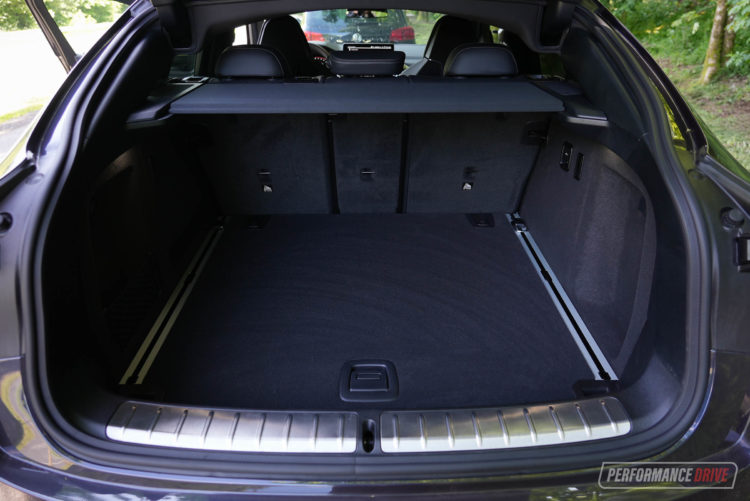 Up at the back the boot is rated at 525L, or 1430L with the rear, 40:20:40 split-fold seats down. That's 25L and 170L less than the X3, respectively. So, unless you're drawn to the trendy coupe profile, the X3 M Competition is the one to go for if practicality is a higher priority.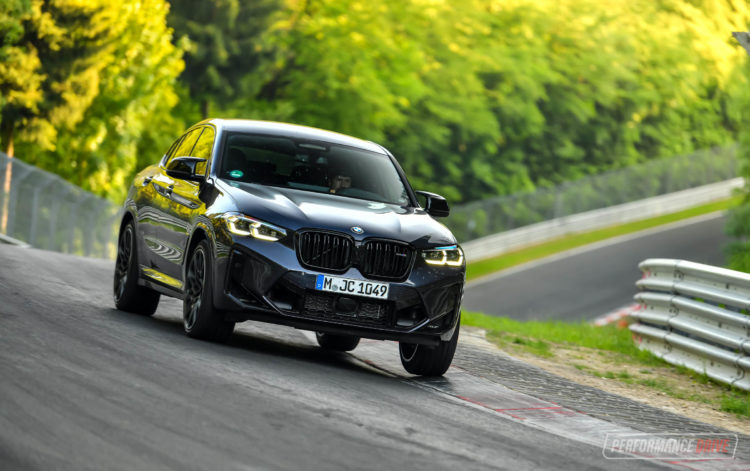 So, how does it go on the Nurburgring? The first thing you'll notice and appreciate is the availability of not just heaps of torque, but torque from low revs. Its peak 650Nm figure is on song from 2750rpm. Soaring up the long uphill sections at the back end of the track, this towering torque provides relentless progression.
Top end power is also exceptional. It feels like it never runs out of puff. We hit around 240km/h along some of the big straights, but in the hands of a professional it would no doubt achieve much higher with no trouble.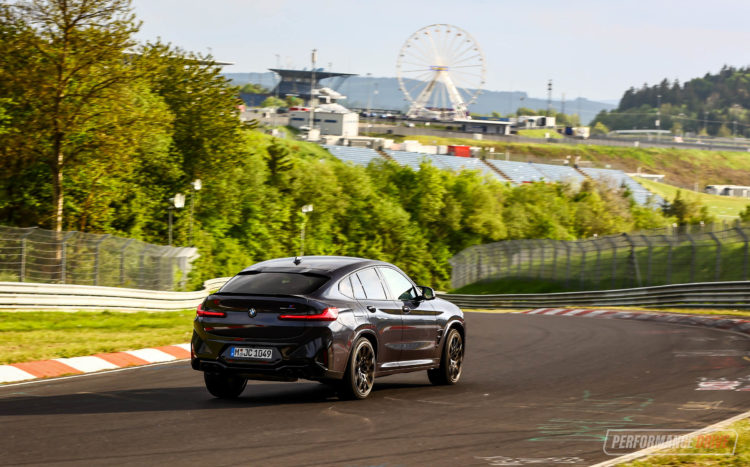 It's not a dual-clutch transmission but the shifts and automatic shift points are perfect as far as I'm concerned. There is no delay or lag upshifting under full throttle, and the downshifts are prompt and assisted by rev-matching when in the sporty modes. This proves, in my mind, there really is no need for a dual-clutch unit. At least on a production five-seater that also needs to behave on the road.
The brakes hold up very well considering its 1968kg tare weight. That's heavy for a mid-sizer and it's compounded when you're driving at full attack on a circuit. However, despite completing around 9 laps of the circuit with some cool-down in between, the brakes held up impressively during our tests.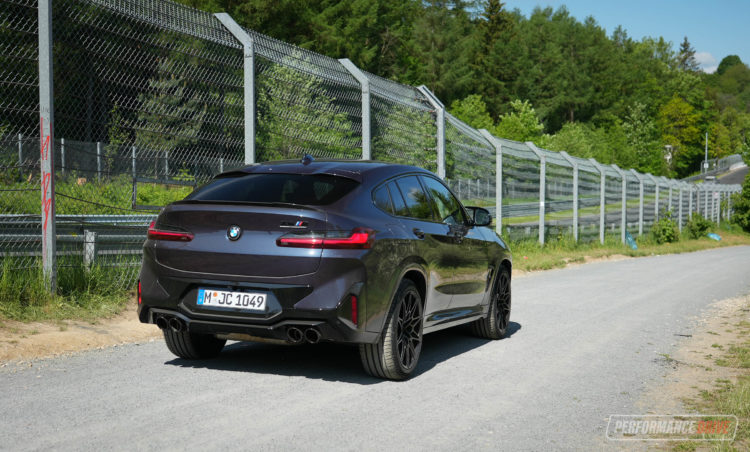 I tried my best to post a good 'bridge-to-gantry' lap to see what sort of time it could achieve, however, by the time I got familiar with the circuit again and the vehicle, the traffic built up. During my first attempts on the first day, traffic was low and I managed around 8:15. But I stuffed up a few shifts and didn't utilise the optimum cornering line at multiple points.
Even so, the X4 M Competition is easy to drive fast. You can tell it was developed here. It enjoys being on the track, and the somewhat unassuming engine is utterly brilliant.
Check out the full feature video below for more on the X4 and some walk-around vlog-style coverage of the Nurburgring itself.