Audi has released some preview sketches of a new Audi Q4 concept it plans to unveil at next week's Beijing Motor Show. The Q4 is anticipated to be a TT-like four-door coupe crossover.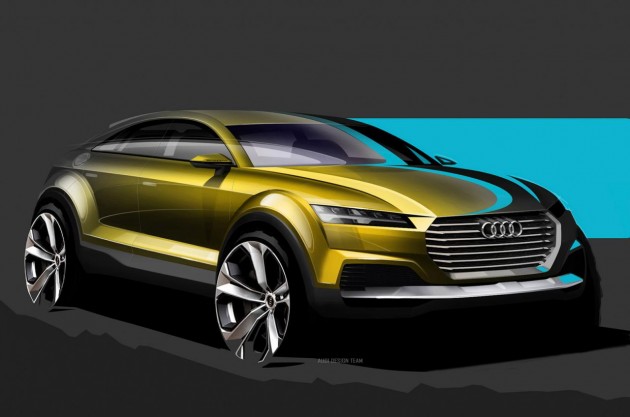 Showcasing a clear five-door 'sport back' layout, the Q4 will likely slot between the existing Q3 and Q5 SUVs. While BMW offers the X6 and will introduce the X4 very soon, with a sleek coupe-like profile, the Q4 would be the perfect rival.
As usual at this early stage of a major unveiling, very little details have been released. You can see by the sketches though this clearly borrows the same design language as used with the recently-revealed next-gen TT sports car.
Audi has given it bulbous wheel arches, slimline headlights, a large prominent grille, curved A-pillars that blend into the roofline and C-pillars, and modern LED lighting. It also appears to have a chunky lower bodykit section in silver for that rugged off-road look.
At the back there is a bit of a tail on it with some cargo area poking out. A large hatch encases the compartment with dual exhausts and a roof spoiler giving it an aggressive, sporty stance.
The interior looks very modern and crisp with light grey used for most of the materials. A thin centre console runs down the length of the cabin to divide up four separate sports seats, with foldable rear chairs providing extra cargo storage.
We'll keep you updated with more details as the concept makes its debut on April 20.