Yet another image of the 2018 Renault Megane R.S. has leaked out, showing and essentially confirming what appears to be Renault's 1.8 TCe unit.
There's been plenty of speculation regarding Renault Sport's direction on powerplant options for the new hot hatch, with most suggesting it will get the company's new 1.8-litre turbo four-cylinder which has debuted in the Alpine A110 sports car (1.8 engine pictured below, without piping and some accessories).
Judging by this image, appearing on Ferd Facebook page, Renault appears to have gone for the 1.8, or at least used the 1.8 as the foundation. The engine layout and main connections, including the cross-flow manifold setup, seem to line up with the Alpine engine below. It's unconfirmed if the capacity remains at 1.8 litres, but if so, this would be 200cc down on the outgoing model's 2.0-litre unit.
In the Alpine A110, which is a revival model for the classic A110 of the Sixties and Seventies, power peaks at 188kW. Most expect this to be turned up a notch for the Megane, especially considering the outgoing version produces 201kW from its 2.0L.
Renault Sport may have lobbed some weight from the Megane which could translate to a superior power-to-weight ratio than the current 2.0L version, even if the 1.8 sticks in its existing specification. As previously reported, both a six-speed manual and dual-clutch auto will be offered this time around.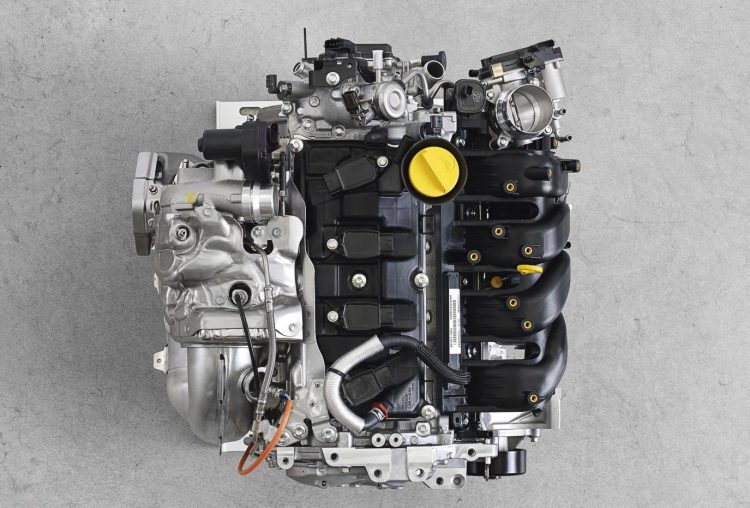 Furthermore, the sneaky photographer behind the engine image has also gabbed one of the dash fascia. And it looks like the R.S. will carry over an almost identical layout to the regular Megane. There's the main touch-screen at the top and climate control functions in the middle with some storage space down the bottom. This example features the manual transmission, showing off a cool brushed aluminium-capped gear shifter.
More details will be revealed in the coming weeks, with the official public debut set for the Frankfurt motor show in September.