Okay, so this is pretty much all the confirmation you need. There will be a proper X3 M car with the next-generation, as audibly indicated by this barking prototype.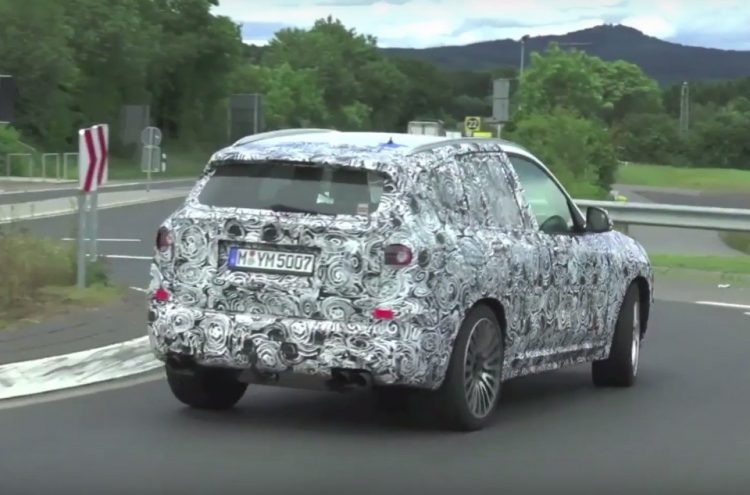 Spotted by autoevolution recently in and around the Nurburgring in Germany, the X3 M is set to be BMW's first performance SUV for the segment, aside from the X4 M40i. It will be based on the next-gen X3 due in the next 12-18 months. Various telltale signs on this prototype give away BMW's intention to introduce a proper M version.
The quad outlet exhausts are a dead giveaway, as is the barking, baritone inline six soundtrack they produce. There's also big brakes hidden behind lightweight alloy test wheels, along with hints of aero tweaks and body enhancements.
As far as we know the X3 M will come with an iteration of the M3/M4's 3.0-litre turbo six. Just how much power it will produce it yet to be known, but given Mercedes has the GLC 43 AMG with its 270kW twin-turbo V6 we're betting it will be above this.
Of course there is a change BMW will simply implant the 272kW version of the M3 engine into the X3, taken from the M2 performance coupe. BMW might even decide it needs to blow all other mid-size SUVs out of the water and instead tune it to produce much more than the 317kW M3. BMW is yet to confirm any concrete details regarding the next X3, only that it will be offered with an all-electric powertrain option.
The next-gen X3 is expected to be built on BMW's new CLAR platform, first introduced with the latest 7 Series and then recently the new 5 Series. If so, it will mean the X3 will remain a rear-wheel-drive-based model unlike the new X1 which has gone for BMW/MINI's front-wheel-drive-based UKL platform.
With this we should expect some decent weight shedding even though the current X3 is one of the lightest weight SUVs in the class. Fuel economy, performance and handling are all set to benefit if weight is cut even further.
Given that Mercedes-AMG is said to be planning a GLC 63 V8 and Jaguar seems to be preparing a V8 version of its new F-PACE, the X3 M won't come soon enough. Check out the video below for a preview, and listen to that distinctive soundtrack.