This is it. The new, 2018 BMW M5. Otherwise known as the beastliest sedan BMW has ever made. The new model is also the cleverest, most powerful, and quickest M5 ever.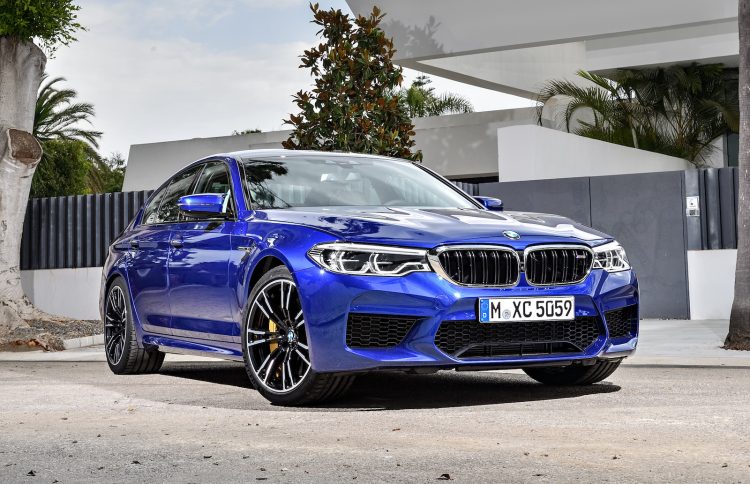 Starting with the engine, as that's probably what we're all interested in most. It's a 4.4-litre twin-turbo V8 that belts out 441kW of power and a whopping 750Nm of torque. This is quite a hike up from the outgoing 423kW/680Nm tune.
Peak power is achieved between 5600 and 6700rpm, which is quite high for a turbo V8 (sure to keep the purists happy), with peak torque available from just 1800rpm and held until 5600rpm. Almost the entire rev range is offering either peak power or peak torque – one of few production engines that pulls off such a feat.
As we already know the new M5 comes with an all-wheel drive system which can be disengaged to offer regular rear-wheel drive. Despite this running gear, the 2018 M5 has an unladen weight of 1855kg, which compares well to the outgoing model's 1870kg (kerb) weight. This helps with on-road performance. A lot.
Using its eight-speed torque convertor automatic, BMW says the M5 can cover the 0-100km/h sprint in just 3.4 seconds, and 0-200km/h in 11.1 seconds. This kind of acceleration is insane, especially for a large, five-sedan sedan. The top speed is limited to 250km/h, or limited to 305km/h with the optional M Driver's Package. Fuel consumption has increased from the outgoing model, understandably, from 9.9L/100km to 10.5L/100km.
Moving on to the fresh body design, the new M5 borrows the styling from the latest 5 Series, or course, with finer panel lines and slimmer headlights and taillights, but with the usual smattering of M highlights helping it stand out as a proper performance sedan.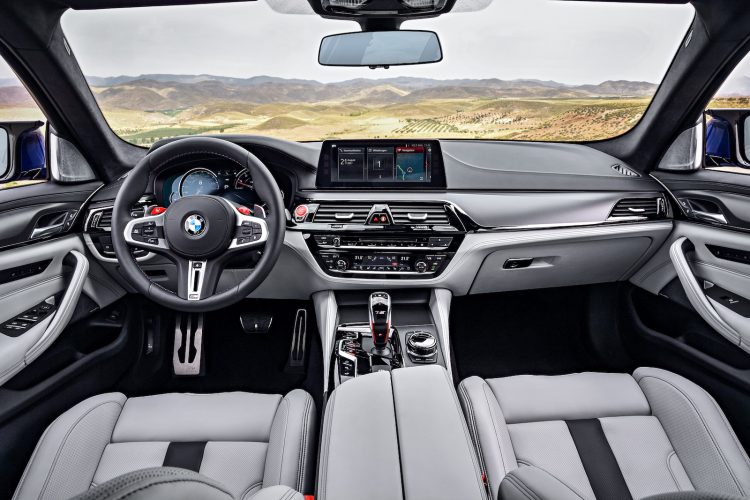 If you didn't notice the quad-outlet exhausts enveloped by a chunky diffuser at the back, or the trademark side gills in the front guards with M5 badges, or the bespoke 19-inch wheels measuring 9.5 inches wide on the front and 10.5 inches on the back (275/40 and 285/40 tyres), you'll probably notice the optional matte maroon paint colour on this show car. BMW says there is a range of unique matte finishes available for the new model. There's also optional 20-inch wheels, in black, and a full black trimming pack.
Inside, it's traditional M5 in that it is filled with cutting-edge technology and gizmos, first-class luxury, and a dash of sportiness. Passengers are hugged by big bulky seats with plenty of soft bolstering, while the dash incorporates BMW's latest iDrive 6 multimedia interface. The driver gets to grasp a sporty three-spoke wheel with cool little red drive mode buttons at the thumb positions. There's also traditional-style gauges in the digital instrument cluster, lots of leather, and a special M gear lever and pedals.
BMW Australia is yet to announce local prices, but the new M5 will go on sale in Europe during the first half of 2018 (European spring) priced from €117,900. An M5 First Edition will also be launched, costing another €19,500 on top. Check out the first full-reveal promo video below for more.