After a number of teasers and leaks, the wraps have finally been pulled from the 2017 Volvo V90 wagon. It is, as you would expect, a wagon version of the new S90 sedan.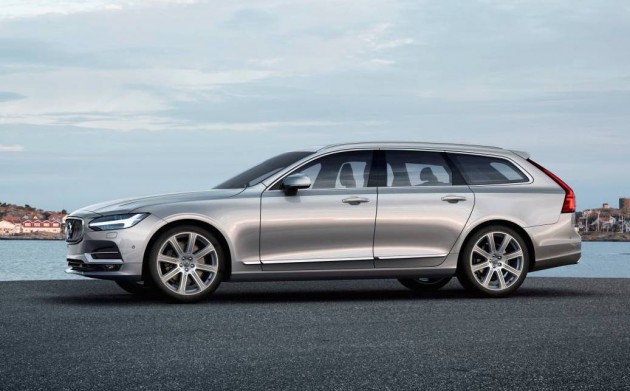 The V90 is the third model to be built on Volvo's new SPA platform, following firstly the XC90 SUV, and then the S90 sedan. It is a very important model for Volvo, especially for Volvo purists as it continues its wagon heritage that began over 60 years ago.
Volvo describes it as a "premium estate car" and a big step forward in terms of "aesthetics, materials and finish, while living up to the ultimately practical nature of any true estate".
As suspected, the V90 will be offered with a range of powertrains, spanning from a T5 turbocharged 2.0-litre four-cylinder producing 187kW and 350Nm, to a higher output T6 version generating 235kW and 400Nm, to the range-topping T8 pairing the 2.0T with an electric hybrid setup for a total of 300kW.
Acceleration times for the 0-100km/h sprint range from 7.0 seconds, 6.1 seconds, to just 5.2 seconds, respectively. Meanwhile, fuel consumption averages range from 6.8L/100km, 7.4L/100km, to just 2.1L/100km for the T8. The T5 is front-wheel drive while the T6 and T8 are all-wheel drive.
Two diesel variants will also be offered, including the D4 front-wheel drive that uses a 2.0-litre turbo four-cylinder producing 140kW and 400Nm, and a D5 AWD version that generates 173kW and 480Nm. The D4 covers 0-100km/h in 8.5 seconds and offers a consumption average of 4.5L/100km, while the D5 offers 7.2 seconds and 4.9L/100km.
Some of the highlight technologies that will be offered include Pilot Assist semi-autonomous cruise control, run-off road protection, large animal detection, and "class-leading connectivity" with Apple CarPlay.
Volvo Australia says local specs and details are yet to be finalised, but it is expected to go on sale here later this year or early in 2017.