The 2017 Subaru BRZ (as well as its Toyota 86 twin) is one of the most affordable sports cars you can buy in Australia, with a low centre of gravity thanks to its boxer engine, rear wheel drive and a peaky redline. There is plenty of aftermarket support for both cars, including for those wishing to pursue motorsport. Nothing else in this price range offers the same formula.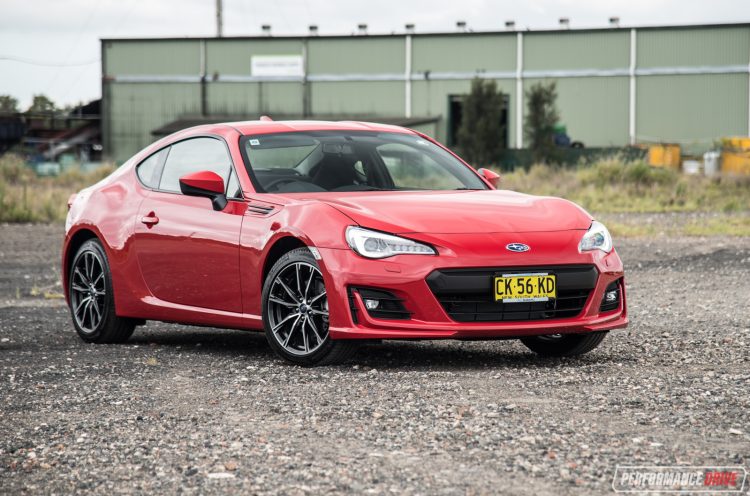 In 2015, the pair dominated the 'Sports under $80K' segment (December 2016 VFACTS), but since the arrival of the Ford Mustang the Toyota 86 has dropped by roughly a third (2068 sales in 2016 versus 3006 in 2015) and the BRZ by nearly half (607 to 331).
Both recently underwent mild updates, with engine output increases for the manual variants to 152kW and 212Nm – up 5kW and 7Nm. The manual gearbox has also undergone revisions for improved shift feel and the diff ratio is shorter (4.3:1 versus 4.1:1) for more squirt off the line.
Cries for more power have gone unheeded for automatic customers, but all BRZs get equipment, interior and exterior revisions to go with the update. Best of all, the price has come down for the BRZ to $32,990 for manual and $34,990 for automatic – drops of $1230 and $1735, respectively. By contrast, the Toyota 86 rose by $800 to $30,790.
We set out to discover if the BRZ is now a more complete and practical sports car as a result of its extra power, and if the updates are discernible from behind the wheel. Also, whether you should buy one over the more affordable Toyota 86 GT.
2017 Subaru BRZ – THE SPECS
Engine: 2.0-litre boxer four-cylinder
Output: 152kW@7000rpm / 212Nm@6400-6800rpm
Transmission: Six-speed manual
Drive type: Rear-wheel drive, limited-slip differential
Wheels: F: 17×7.0, 215/45  R: 17×7.0, 215/45
ANCAP: Five stars (scored 34.40 out of 37)
Tare weight: 1242kg
Power-to-weight: 8.17:1 (kg:kW)
Official fuel economy: 8.4L/100km
Economy during test: 9L/100km
Fuel capacity/Type: 50L/98 RON
Power efficiency: 18.09kW:L/100km
0-60km/h: 3.91 seconds*
0-100km/h: 7.73 seconds*
1/8 mile: 10.43 seconds at 117.2km/h*
1/4 mile: 15.75 seconds at 145.5km/h*
100-0km/h braking: 2.97 seconds at 38.82 metres*
Decibel at idle: 45*
Peak decibel at 60-100km/h: 90*
Priced from: $32,990
* Figures as tested by PerformanceDrive on the day. Factory claims may be different

2017 Subaru BRZ – THE PACKAGE
Fundamentally, this is the same vehicle which has been on sale since 2012, which is a very low slung 2+2 coupe. The rear seats are there for occasional use, if the front occupants are prepared to sacrifice some of their legroom. The same toggle switches and switchgear ostensibly remains, but the new smaller-diameter steering wheel is a very welcome addition indeed. Its new buttons look great and are user-friendly.
So is the standard climate control and Subaru Starlink touch-screen infotainment that helps it differ from the 86. There's also a semi-digital instrumentation/ trip computer display. There is, however, no Apple CarPlay or Android Auto, and although there are some soft-touch plastics, it's mostly hard stuff. For the driver and passenger the cloth seats are well bolstered for sporty driving, even if they can become a little firm for long journeys. In typical sports car fashion the low-slung driving position means your legs extend forward rather than down.
Outside, you and onlookers are treated to new 17-inch alloys, new LED headlights and taillights, and a tweaked front end with unique vents and front spoiler compared with last year's model. The same ground-hugging alligator profile is still there, afforded by the flat-four engine.
In the middle of the skimpy 218-litre boot sits a full-sized alloy spare, rather than the space-saver found in the Toyota 86. This leaves you in no doubt of the car's sporting focus, though the rear bench can fold forward to load longer items.

2017 Subaru BRZ – THE DRIVE
To the uninitiated, a drive around town or dense traffic could have you wondering what the fuss is all about. The engine still requires lots of revs before making meaningful progress, causing plenty of near-stalls off the line. The shifter does have precise gates and a nice, mechanical feel but it is a little baulky and notchy for the 1-2 shift at low speeds. The ride is more forgiving than you'd expect, with only sharp bumps and potholes jarring through the body.
But as soon as you take it on a challenging road and wring its neck, something magical happens. Whether you're attacking a long sweeper, or a tight chicane, the BRZ changes direction like it's hard-wired to your synapses. The front wheels are far ahead, but the smaller tiller gives you such precise control and clean, unfettered feedback. It is light and stays consistently-weighted from lock to lock.
As you are low to the ground, bodyroll is almost non-existent and you can use the throttle to adjust your cornering line due to the driver being almost right in the middle of the car.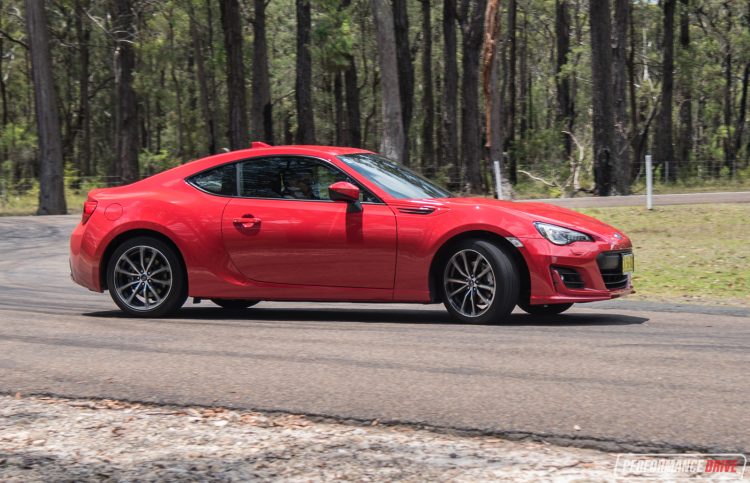 The stability and traction control has several settings including a track mode. For experts, holding the TRC/ESC button down for three seconds disables them both. The sticky 215 Michelin tyres and short wheelbase mean this car prioritises cornering speed and agility over sheer oversteer. If oversteer is your priority, the Prius-tyred Toyota 86 GT might be preferrable. In either case, the lack of low down torque makes the rear end hard to provoke with only the throttle, but plenty of weight shift can easily provide tail-out antics.
Going back to twisty roads, the gear ratios allow you to explore the upper-reaches of the rev range, where your ears are treated to a boxer snarl you just don't get with a normal inline-four. A quick stab of the clutch pedal and a poorly-judged downshift can cause the rear to come unstuck if you're not careful, due to the peaky power  and torque curve. Peak torque of 212Nm is available from 6400-6800rpm, compared with bang-on 6600rpm in the previous 205Nm model; it's still very peaky.
But the more time you spend with the car, the more familiar you get, exploring its grip levels until you can fully unleash your hyper-active inner child. Only the Mazda MX-5 comes close at this price range for outright thrills, however, the Subaru is more rewarding by a small but noticeable margin in our opinion. It has the poise and balance of a six-figure sports car and can put a huge grin on your face.
Oh, and if you're wondering, you can expect fuel economy of around the 9L/100km mark, against the quoted 8.4L/100km average figure. The short ratios mean it is sitting at about 3000rpm at 110km/h on the freeway, so there is a slight drone. The quicker diff ratio doesn't help with highway economy either, although we did see it drop into the sixes.

2017 Subaru BRZ – THE VIDEO
2017 Subaru BRZ – THE VERDICT
Should you buy one? If you love driving and don't need to cart around a family or items all the time, then we say yes. Just make sure you get the chance to take it down a challenging road before deciding if it's for you.
The BRZ remains an outstanding value-for-money sports car that has the ability to thrill you like no other new car in this price range. There are compromises in terms of practicality and driveability with the manual but there is plenty of aftermarket support to fill that low-down torque hole. Another 500cc would make it near perfect, we reckon. The JDM-only specials such as the tS and STI would be welcomed here too, so we hope to see some of those make their way down under.
In any case, we are pleased there is a successor due in around two years and hope it keeps what makes the current version so great, while adding more beef to the engine, a nicer interior and not adding any fat.
The 86 GT is worth considering if you can live without climate control, full-size spare and want the skinnier tyres, but the BRZ gets plenty more equipment for not much more cash and to our eyes is the looker of the two.

PROS:
– Improved infotainment system
– Full size spare tyre
– Outstanding dynamics and depth of talent
– Precise and feelsome steering
– Good, sporty ergonomics
– Decent ride, despite sporting bias
– Good shift quality when driven fast
– MY2017 even better value

CONS:
– Low interior might not be suitable for some
– Lack of low down torque still makes traffic and hills tiresome
– No smartphone mirroring
– Rear seats are woefully inadequate
– Gearshift can be stiff at low speed
As always, if you're thinking about buying a new car don't forget to click here to speak with our car buying specialists.