If you're in the market for a competent seven-seat off-road SUV but don't have the budget for the segment-favourite Toyota Prado, there are other options. The 2017 Isuzu MU-X is not an addition to the growingly popular soft-roader market. No, this is an option for buyers who actually intend to go proper off-roading.
Isuzu kicked off the sale of the MU-X in 2013, and 2017 brings a welcomed update to the interior, improvements to the turbo-diesel engine, minor exterior updates, and finally, a new six-speed auto transmission.
The lineup is fairly straight-forward, with the entry-level LS-M, the LS-U, and the range topping LS-T. Among most variants, you can opt for 4×2 rear-wheel drive, and part-time 4×4 setups. There's also six-speed manual or six-speed auto transmissions options. All variants are matched with the same 3.0-litre four-cylinder engine.
Isuzu has provided us with the mid-spec LS-U 4×4 auto. And a perfect way to test a solid vehicle like this is to stretch its legs on top of the NSW Snowy Mountains. Isuzu MU-X 4×2 models start their pricing at $42,800, but this as-tested spec will set you back at $52,400 (excluding on-road costs).
2017 Isuzu MU-X – THE SPECS
Engine: 3.0-litre turbo-diesel four-cylinder
Output: 130kW@3600rpm / 430Nm@2000-2200rpm
Transmission: Six-speed auto
Drive type: Part-time four-wheel drive
Wheels: F & R: 18×7.0, 255/35
ANCAP: Five stars (scored 33.58 out of 37)
Tare weight: 2095kg
Power-to-weight: 16.11:1 (kg:kW)
Official fuel economy: 7.9L/100km
Economy during test: 8.7L/100km
Fuel capacity/Type: 65L/Diesel
Power efficiency: 16.45kW:L/100km
0-60km/h: 4.35 seconds*
0-100km/h: 10.55 seconds*
60-110km/h: 8.38 seconds*
1/8 mile: 11.18 seconds at 102.6km/h*
1/4 mile: 17.61 seconds at 127.0km/h*
Max acceleration: 0.645g
100-0km/h braking: 3.49 seconds at 42.10 metres*
Max deceleration: -1.018g
Decibel at idle: 51*
Peak decibel at 60-100km/h: 79*
Priced from: $52,400
* Figures as tested by PerformanceDrive on the day. Factory claims may be different

2017 Isuzu MU-X – THE PACKAGE
Isuzu has a well-known, deep rooted heritage of making strong and hard-working trucks. And it's no mistake that that legacy flows into its passenger vehicles. The idea that you can buy a robust and reliable SUV is imperative to some buyers or companies who need to detour off the bitumen, or tow – especially in a world where everything seems to be built to a price.
However, being predominantly made for off-road capabilities does not mean that you don't get some of the important features and technologies seen in soft-roaders. All MU-Xs come with cruise control, reverse parking sensors, an eight-speaker sound system with Bluetooth connectivity, a reversing camera, two USB ports in the front row and one in the second row, six airbags, loads of storage spaces, DVD playback support, new auto-levelling bi-LED projector headlights, and of course, a full-sized spare wheel.
If you opt for our test model, the LS-U, you will also gain climate control, a bigger (and new) 8.0-inch touch-screen display with sat-nav, along with front fog lights, and bigger 18-inch all-terrain tyres.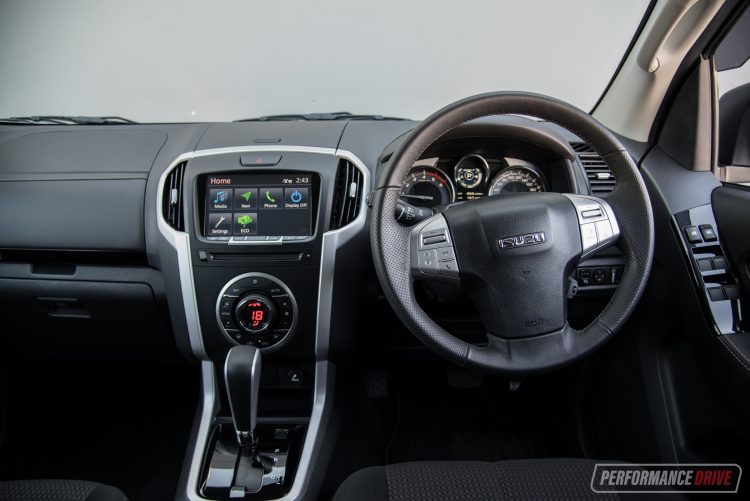 For the 2017 update, the exterior has not been altered too far away from the winning formula. Aside from some minor grille and front facia changes, it still gives off that stark and strong appeal.
The MU-X's interior has also been refined, adding a dual-coloured dashboard with a soft touch feel, new chrome and piano black trimming, and softer coverings and armrests. Isuzu states that improvements to NVH (noise, vibration and harshness) levels have been made in the 2017 MU-X, thanks to more sound and vibration insulation used inside the vehicle. We find the cabin is a peaceful environment, unless the engine is spinning above 3000rpm, or if the engine is cold – understandably so.
Good old-fashioned manually-adjustable seats provide you with acceptable levels of comfort and an ideal seating position without a fuss. Although, the steering wheel is not telescopically adjustable. The seats will also provide you with a high-riding, secure feeling that we all love in SUVs. This makes for great visibility.
Space is commendable throughout the entire cabin in the MU-X. There are 12 cup holders in total, and Isuzu counts 18 storage solutions that are scattered throughout. During out test in the mountains, where a lot of gear is required – skis, poles, ski boots, passengers, luggage – it all fit superbly.
Third row seats still leave a small yet useable amount of storage in the boot as well. Flat-fold seating creates an ideal vehicle for packing large items. At 1830 litres with the seats flat, this compares well with the Toyota Prado's 1833 litres, and beats the Mitsubishi Pajero's 1758 litres.

2017 Isuzu MU-X – THE DRIVE
The updated 3.0-litre turbo-diesel engine is first to arrive here in Australia. Engineering tweaks allow it to comply with Euro 5 emission standards. Isuzu states that it has newly-designed pistons, fuel injectors, fuel supply pump, and ceramic glow plugs. As well as a new VGS turbocharger, there's a larger Exhaust Gas Recirculation (EGR) cooler, intelligent battery sensor, and a diesel particulate filter.
All of this creates an increased output of 130kW and 430Nm. On the road though, the power output is a tad underwhelming when required to get up to speed quickly. The full 130kW doesn't come into play until the engine is screaming at 3600rpm, which falls out of the range of the maximum torque output (2000-2200rpm). And this large four-cylinder doesn't really like to rev. The vehicle itself is over two tonnes, so there is a bit of work to do. However, going up steep hills with a load tells a different story. It pulls confidently and is able to hold onto the higher gears positively.
The new, and well overdue, six-speed auto helps to deliver this pulling power. It does a much better job at finding the right engine spin for the conditions – on or off road. It also helps to achieve a great towing capacity. At 3000kg, the MU-X is capable of pulling the same load as the Pajero, and outdoes the Prado's 2500kg – both SUVs of which are significantly more expensive.
Official fuel consumption figures rate the MU-X at 7.9L/100km on the combined cycle. Our average hovered around 8.7L/100km. This also included off road and hilly driving. Considering the size of the MU-X, fuel usage doesn't create new benchmarks, but it isn't the worst out there. The fuel tank only holds 65 litres, which may be an issue for serious long-distance drivers who need greater ranges between refills.
We're impressed by the positive feedback and steering control regardless of the terrain or speed you're travelling at. Although the MU-X conveys truck-like strength, the steering has manners at highs speeds. It is effortless to keep in the lane. And a rear five-link suspension arrangement with coil springs and stabiliser bar tends to provide generous wheel articulation when negotiating deep off road ditches, while also providing a decent ride.
True rugged off-road performance is demonstrated with all 4×4 models equipped with a 2mm steel front skid plate, steel sump and transfer case guards, and protection for the front end of the fuel tank. All 4×4 variants offer 220mm of ground clearance. Not so high when compared with the Mitsubishi Pajero's 235mm, and Ford Everest's 225mm. However, approach and departure angles are creditable, at 24 and 25.1 degrees, respectively.
All variants of the MU-X are armed with hill descent control, which assists in maintaining a constant low speed when descending steep or slippery slopes. The 4×4 models are fitted with a dual-range 4×4 terrain command system, operated via a dial on the console. High range 4×4 mode can be selected on the go up to 100km/h. And low range needs the car at a complete stop, as you would expect. With this, the MU-X is very capable and fun off the road.
Servicing intervals are scheduled for every 10,000km or 12 months, and Isuzu offers capped-price servicing so you can gain some assurance with running costs, and warranty for five years or 130,000km.
2017 Isuzu MU-X – THE VIDEO
2017 Isuzu MU-X – THE VERDICT
A market exists in the automotive world today where there are buyers who may have been disheartened by experiences with durability, or they just don't like the thought of buying a car with features they don't need.
If a buyer were to ask us at PerformanceDrive which 4×4 they should buy that is a serious off-roader with plenty of space, seven seats, won't overwhelm with unnecessary features, and won't break the bank, we would sternly tell them to consider the Isuzu MU-X. It's a fuss-free, robust vehicle that has a proven durable track record.
The re-engineered engine is purposely under-tuned for longevity's sake and retains a large capacity which is better for towing (and engine braking), and the new six-speed transmission makes it relevant again without jeopardising durability. For drivers who like to venture off the road as much as they do on, and need more than a soft-roader, this should be a contender for your shortlist. But, if you like all the glamour, technology and aesthetics of today's other crossover-like SUV offerings, the MU-X probably won't appeal to you.
PROS:
– Strong Isuzu build means truck-like reliability and off-road strength
– Seating position is tall for excellent visibility
– Low price for a capable 4×4, not just a soft-roader
– Practicality – decent boot size, plenty of storage spots, USBs/power outlets
– New six-speed auto, more engine torque
CONS:
– Not feature-packed and not very sophisticated
– Incessant beeping when door is ajar and the key is in the ignition
As always, if you're thinking about buying a new car don't forget to click here to speak with our car buying specialists.