DeLorean Motor Company (DMC) has announced it is now taking pre-order applications for those interested in buying an example of its DeLorean DMC-12.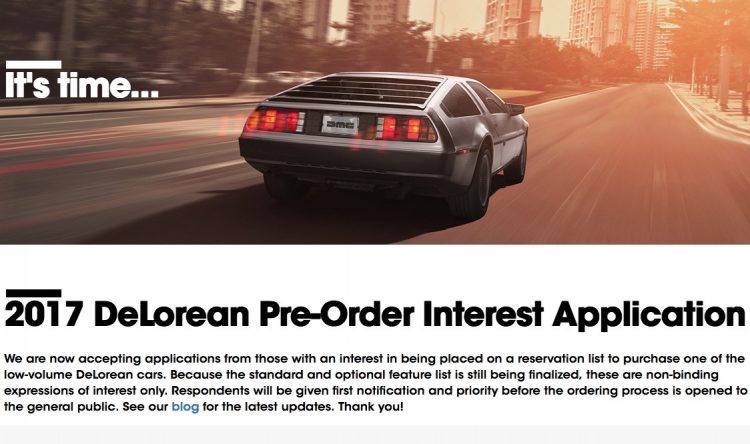 We reported back in June that there was a DeLorean DMC-12 revival in the pipeline, and now we've got some concrete details to report on.
DMC announced prototype builds of the DeLorean's chassis are expected to be completed by November, and the company is closer to finalising deals with powertrain and ECU suppliers. In a blog post accompanying the company's application form, DMC said that despite delays with EPA regulations, the company is "pleased with where we are, based on our current planned production timeline."
One of the biggest hurdles for the DMC company is dealing with those EPA regulations, which for small, low-production manufacturers that have essentially been out of the game for three decades, can prove troublesome. In order to be approved by the EPA and meet CARB (California Air Resources Board) requirements, every part of the DMC-12 is being given the fine-tooth comb treatment, which is ultimately delaying its production.
However, DMC says it is confident the powertrain, which remains unknown at this point, will meet EPA and CARB regulations, and be fit for sale in the US.
DMC no doubt recognises the desire for the DMC-12: "The overwhelming interest and feedback from people interested in the DeLorean production can't be dismissed," the company said.
The pre-order form confirms that the company is now accepting applications to be placed on a reservations list. However, "these are non-binding expressions of interest only," DMC says.
In regard to production numbers, production is very limited. DMC says in the first 12 months of production, just one DeLorean will roll off the line per month. However, this is set to speed up to a rate of one car per week by the end of the second year of production.
DMC says the company is still a few months away from setting a price for the car, "as we finalise the bill of materials and standard/optional feature" lists.
The DMC-12, made famous by the Back to The Future franchise, entered production in 1981, with 9000 produced by the time manufacturing stopped in 1983. The company went into liquidation soon after. In 2007, it was estimated there were around 6500 left in existence.
In 1995, British entrepreneur Stephen Wynne started a separate company, acquired all the necessary trademarks and purchased the remaining parts inventory from the original DeLorean Motor Company.