After a number of teasers and leaked images, BMW has now officially unveiled the 2017 'G30' 5 Series luxury sedan. It packs impressive new technologies and sports a neat design makeover inside and out.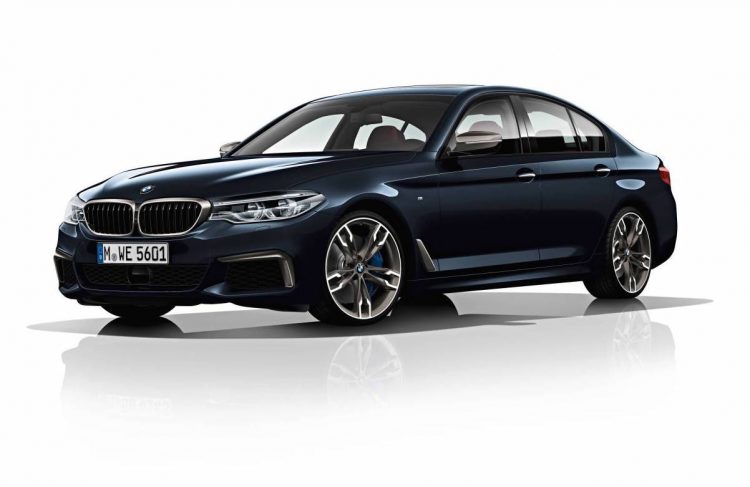 We'll start with the most interesting details. So, a new M550i xDrive variant is joining the lineup (not likely for Australia), featuring a 4.4-litre twin-turb0 V8 pounding out 340kW and 650Nm.
Matched to an all-wheel drive system and eight-speed automatic, the G30 M550i is able to smash 0-100km/h in just 4.0 seconds. This makes it quicker than the outgoing M5, for 0-100km/h anyway. Fuel consumption is rated at 8.9L/100km.
Also joining the lineup is a new 540i featuring a 3.0-litre straight-six turbo producing 250kW and 450Nm. It's capable of 0-100km/h in just 4.8 seconds, and offers an official combined fuel consumption rating of 6.5L/100km.
There's also the 530i with a 2.0-litre turbo four-cylinder generating 185kW and 350Nm, which is able to do 0-100km/h in 6.2 seconds while offering a fuel consumption of just 5.4L/100km. BMW will be offering both rear- and all-wheel drive for these, at least in overseas markets.
For the diesel range, there's the 140kW/400Nm 520d and the 195kW/620Nm 530d inline six. These are able to see 0-100km/h in 7.6 seconds and 5.7 seconds, respectively, while offering consumption of 4.1 and 4.5L/100km, respectively.
From March next year punters will also be presented the new 530e iPerformance (above) using a 140kW turbo-diesel and electric motor, producing a combined output of 185kW. The diesel hybrid consumes just 2.0L/100km on average.
As for the design and technologies, well, the exterior as suspected follows in the form of the latest 3 Series and 7 Series. It uses the traditional twin headlight design albeit merging at the grilles, along with a sporty and elegant rear end and integrated lip spoiler-like contour.
The 4935mm-long body is all very slippery through the air too, offering an aerodynamic drag coefficient of just 0.22 in its most efficient variant. This, along with a weight reduction of up to 100kg, helps to make the new 5 Series the most economical and efficient model ever.
Some of the advanced technologies include Integral Active Steering, a stereo camera for external monitoring, and a new Active Cruise Control system that is capable of "relieving the driver" of accelerating, braking and steering from rest and up to 210km/h.
For the interior there's a new 10.25-inch infotainment screen and iDrive controller, voice command and gesture command, head-up display which is 70 per cent larger than before, and special acoustic glazing for the windows and acoustic headliner for optimum sound insulation, called Synergy Thermoacoustic Capsule (SYNTAK) technology.
ParkNow will also be available for digital parking space reservation and payment, along with Remote Parking functionality allowing users to park the car into tight spaces with the key from outside the car. Microsoft Exchange with complete Microsoft Office 365 connectivity will also join the package.
An official on-sale date hasn't been confirmed for Australia but is is expected to arrive by around mid-2017. Variant details and local specs are also yet to be confirmed.