Lamborghini has unveiled the new supercar it has been previewing over the last week or so. And here it is. Introducing the Lamborghini Sian. It's the most powerful production car the company has ever made, and the first hybrid Lambo ever.
As suspected, the new Sian debuts as Lamborghini's first foray into the world of electrification. Using a high-tech hybrid system incorporating a V12 engine that produces 577kW on its own, paired with an electric motor system that adds 25kW.
With a combined power output of 602kW, it is the most powerful Lamborghini production car ever. Even the V12 alone is the most powerful engine the company has ever conceived. It is also the world's first use of a supercapacitor for a production hybrid, which replaces the usual lithium-ion batteries. Lamborghini explains the advantages, saying:
"Rather than a lithium-ion battery the Sian innovates supercapacitor application: a technology pioneered originally in the Lamborghini Aventador but dramatically developed to store ten times the power. It is three times more powerful than a battery of the same weight and three times lighter than a battery producing the same power."
As a result, the supercapacitor and electric motor only weigh 34kg, leaving a weight-to-power ratio of 1kg:1PS. Lamborghini hasn't specifically said what the kerb weight is, but by calculation the ratio means the Sian tips the scales at just 819PS.
Is it fast? Of course it's bloody fast. Lamborghini says the Sian will do 0-100km/h in "less than 2.8 seconds", making it the fastest-accelerating Lambo production car ever. It also offers a top speed of over 350km/h.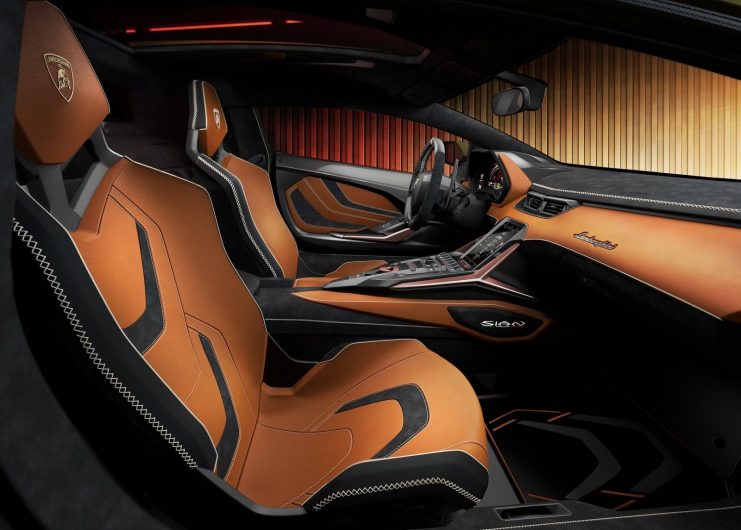 The design of the new hypercar is outrageous and thus perfectly fitting for a modern Lambo. It's also green. As first suggested, the exterior does take some styling elements from the Terzo Millennio concept car, with its three-pointed LED daytime running lights, and unique roof cutaway through the middle.
It does look a little bit like the Huracan, but the body features many unique cutaways and scoops and flares, with a super-aggressive rear diffuser. There's even end plates for the rear end. Speaking about the car, Stefano Domenicali, Lamborghini chairman and CEO, said:
"The Lamborghini Sian represents the first step in Lamborghini's route to electrification, and expedites our next-generation V12 engine. Its Sian moniker, meaning 'flash or lightning' in Bolognese dialect, denotes the first electrification of a Lamborghini production car and confirms our strong connection to the territory in which we operate."
Lamborghini is planning to produce just 63 examples of the Sian, and all have already been sold. The public will get its first chance to see the Sian in the flesh at the 2019 Frankfurt motor show which starts on September 10.