For years Subaru's rally-bred WRX has been the king of the all-wheel drive, race-track-ready, affordable sports sedan arena. How does the 2016 WRX STI Premium shape up in this more competitive world?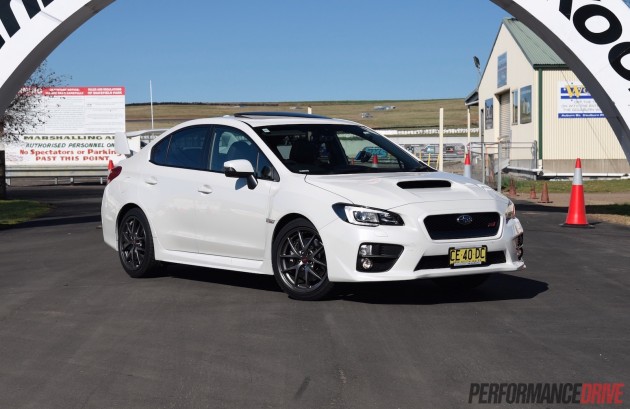 The WRX has been lightly updated for model year 2016 (MY16), introducing more features and more technology to the burbling icon. For the flagship WRX Premium and WRX STI Premium (as tested), Subaru has infused a whole heap of safety devices, along with updated on-board entertainment.
Despite the JDM-spec (Japanese) model getting a refined 2.0-litre turbo producing 227kW/422Nm, Australians are left with the same 2.5-litre turbo boxer as featured in previous generations. It continues to produce 221kW and 407Nm, and the official combined cycle fuel consumption remains at 10.4L/km for MY16. The latest STI is a manual-only model, although the regular WRX can be had with a CVT auto.
Perhaps the most significant change for MY16 is the price. Last year we saw prices drop by up to $10,000 thanks to the free trade agreement with Japan. The benefits can still be had with the latest model, however, most variants have increased in price, but by no more than $1000. This top-spec STI Premium version with the rear wing starts at $55,690, which is up $700 on the MY15 model. Even still, the non-Premium version has dropped $500, starting at $49,490, making it a seriously tempting bargain.
2016 Subaru WRX STI – THE SPECS
Engine: 2.5-litre turbo boxer four-cylinder
Output: 221kW@6000rpm / 407Nm@4000rpm
Transmission: Six-speed manual
Drive type: All-wheel drive, active torque vectoring
Wheels: F: 18×8.5, 245/40  R: 18×8.5, 245/40
ANCAP: Five stars (scored 35.85 out of 37)
Tare weight: 1497kg
Power-to-weight: 6.7:1 (kg:kW)
Official fuel economy: 10.4L/100km
Economy during test: 11.6L/100km
Fuel capacity/Type: 60L/98 RON
Power efficiency: 21.2kW:L/100km
0-100km/h as tested: 5.2 seconds
Wakefield Park best lap: 1:12.06
Priced from: $55,690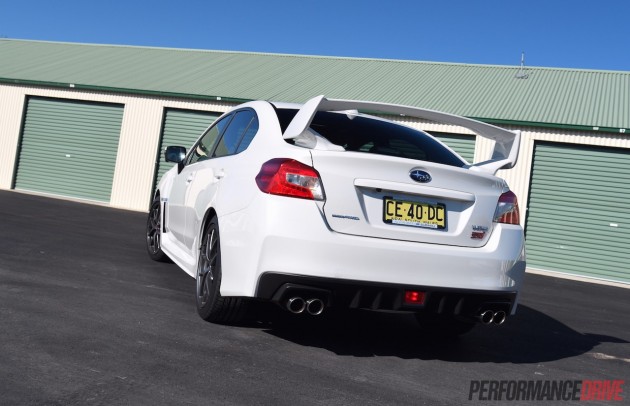 2016 Subaru WRX STI – THE PACKAGE
You can forget the old days when the STI used to present a pretty basic and bare sports sedan cabin, with virtually a set of colourful bucket seats being the only instantly noticeable distinction over the regular Impreza. For the MY16 version, this is clearly going for a more premium look and feel.
On the dash you have three LCD screens to observe and interact with. At first, the sheer digital overload can be overwhelming. Once you settle in and get used to where everything is, you can start to enjoy the layout and rely on it. For example, the top screens (two butted up together); the left one is for the dual-zone climate control, and the right one is more about the driving side of things and can display vast amounts of data, such as your live fuel consumption, live turbo boost pressure (peaked at 126kpa for us, 18.2psi), torque distribution, and comprehensive economy information (live, since refuel, average trip A/B, and live throttle percentage).
As you can tell, Subaru has filled the STI Premium with lots of tech. Lower down on the dash is the 7.0-inch touch-screen infotainment system that you'll find in other flagship models in the showroom. It gives you everything from sat-nav, voice control, and MirrorLink technology (virtually mimic the display and functions of a smart phone). Who would have ever thought an STI would come with all of this? And it doesn't stop there.
Subaru has announced blind-spot monitoring, lane change assistance, and a clever side-view monitor for the Premium grades. The side-view monitor, in particular, is a very cool feature we think. When you're in reverse gear, you get a rear-view camera display in the main 7.0-inch screen. On the top right screen though you also get a view of the passenger side of the car, displayed from a camera mounted under the side mirror. This is great as it makes it almost impossible to scratch your rims when parallel parking.
In terms of luxury and comfort, the Premium gets a harman/kardon nine-speaker stereo system hooked up to a 440-Watt amplifier. It's a superb system, producing good clarity and bass through 'Metal Matrix Diaphragm' speakers and a sub-woofer. It can play your favourite tunes via USB/MP3, Bluetooth streaming, and through the in-built Pandora app which isn't subject to advertisements like the app you might have on your phone.
There's also a leather interior with power front seats. They aren't the sportiest bucket seats we've seen in an STI; the side bolsters are reasonably aggressive but the lower seat is relatively flat. Instead, it seems Subaru has thrown attention towards long-distance comfort; you can now enjoy a long drive in the STI and not feel partly exhausted from a 'busy' interior setting. Seat space is impressive for the class and style of car, with easily enough room for four full-size adults. In the very back is a 460-litre boot, which is more than enough to support weekly shopping and the daily errands.
2016 Subaru WRX STI – THE DRIVE
First off, we'll talk about the way the latest STI drives in everyday conditions. From start up, there's a gentle throbbing soundtrack in traditional Subaru fashion. This engine gives off plenty of that characteristic burble sound compared with the new 2.0-litre turbo featured in the regular WRX. The engine note becomes angry and roars when revved, although the external sound seems a bit quiet in our opinion.
Engaging first gear feels good. The gear shifter offers a mechanical, ratchet-like feel, like you're loading a rifle, with a very short throw. You do need to use a reasonable amount of revs to take off, especially during hill-starts as the engine can bog down. The clutch is elastic and tends to grab at about the midway point, with a light pedal and plenty of feel coming back through your leg.
The engine doesn't produce peak torque (407Nm) until 4000rpm. This is quite high in comparison to similarly sized turbo engines from other manufacturers. In fact, the standard WRX's 2.0-litre unit produces its max torque (350Nm) from just 2400rpm and it holds it until 5200rpm.
This brings us onto one of the 2.5's major downfalls; turbo-lag. Around suburban conditions, in and out of small city streets, and zipping up small hills, it can be a tiresome drive if you don't understand the lag and change your driving style to suit. Below 4000rpm the engine behaves almost like a regular non-turbo and relatively low-power four-cylinder. This is fine, however, the STI comes with a tight all-wheel drive system and performance clutch and gearbox. These components can be temperamental in mundane conditions, especially when used in conjunction with the low-torque engine at low revs. To get around this you simply need to rev the engine a little bit more than you would in a normal four-cylinder manual hatch.
Ride comfort is okay, but only if you allow some tolerance for the fact this is a proper performance car. It can be jiggly around town and harsh on poor country roads. With the MY15 and MY16, Subaru increased torsional body rigidity by 40 per cent compared with the MY13-14 version. There's also stiffened cross members, larger stabiliser bars (from 21mm to 24mm), and 39 per cent higher spring rates. This results in a taut and focused setting. Strangely, there is some minor body roll, but we think this does make the STI more playful and 'throwable' than before.
Overall, the on-road behaviour of the latest WRX STI is still very focused with high agility and responsiveness. However, we think it does feel easier to drive than previous generations. In other words, we think a wider range of buyer types will be able to enjoy the STI, whether it comes to performance driving or general carting about.
If you are a bit of a spirited driver – if you're considering an STI you probably are – we recommend heading out to a track day. This is where the WRX STI really comes into its own. We ventured out to Wakefield Park on one of GP EXEC's private track days to see how the car handles demanding laps on a circuit.
Flat out, the engine performance is exciting. It won't blow you away or frighten you completely, but it really gets up and goes like a stunned cat when you find the engine's sweet spot. With a close ratio gearbox, acceleration through the gears is almost violent. There's no wheelspin from the all-wheel drive system, so the car just leaps forward with every gearchange and keeps rocketing toward the horizon (or next corner). We timed 0-100km/h in 5.2 seconds.
Around Wakefield Park, we think the STI is one of the easiest factory cars to drive flat out. The hydraulic power steering gives you excellent communication for those who like pin-sharp adjustments on-the-go, and it's also direct with a nice amount of weight. It doesn't matter what level of driver you are, this is a car you can really enjoy at your own level. It has a knack for flattering novice drivers and encouraging those with more experience.
New for the MY15 and up, Subaru fitted an advanced torque-vectoring control system. This remarkable system makes the car turn with utter grip and agility. You can come hot into a corner and pretty much jump onto the power at or just before the apex and the car just accelerates and pivots around and away you go. And again, you don't need to be a grand champion racing driver to do this.
By the end of the day we managed to post a best lap of 1:12.06. Looking back over the logs, we see a number of 1:12 times; it really is that easy to drive fast and consistent. Compared with other vehicles we've timed at Wakefield, the STI is only just behind the 340kW HSV Senator Signature (1:11.4).
While the performance is very impressive, the way the car responds to track driving is even more incredible. After numerous pounding laps, the WRX STI keeps pushing and never slows or lets up in any way. It's like it belongs on the track. The brakes do eventually get hot, which is completely understandable, but their performance and power remain mostly unchanged even after 10-15 laps. The tyres and transmission can also withstand the punishment of track driving. As a result, we have no conclusion to draw other than to say it remains as one of the only true track-ready performance cars on the market, and certainly within this price range.
2016 Subaru WRX STI – THE VIDEOS
2016 Subaru WRX STI – THE VERDICT
There's no doubt, the WRX STI has become more versatile, more grown up, and more user-friendly than ever before. It's also safer and filled with more technology, so in theory, it should be easier to convince your other half that you need one. Does all of this take away from the tradition? In some ways, yes. But it's hard to argue against the sheer performance and breadth of ability. If a wider range of drivers can extract the most out of the car, surely that's a testament to the engineering and development? We think so. Subaru has does a fantastic job of creating a useable sports sedan that everyone can enjoy, while also blending in its rich pedigree to ensure it lives up to the performance expectations of today's hottest hot hatches.
PROS:
– Very easy to drive at the limit
– Turbo grunt and muscular engine character
– Luxurious cabin; space, filled with tech & convenience
– Versatile and extremely capable AWD system
– Handling and agility, helped by new torque vectoring function
– Bang for your buck

CONS:
– 2.5 engine is getting old; falls behind market in efficiency
– Needs steering damper; rattles through vigorous turns
– Turbo lag until 3500rpm-plus