Some images – that appear to be official – of the 2016 Mercedes-Benz GLS have surfaced online, showing the new-look design for the GL-Class replacement.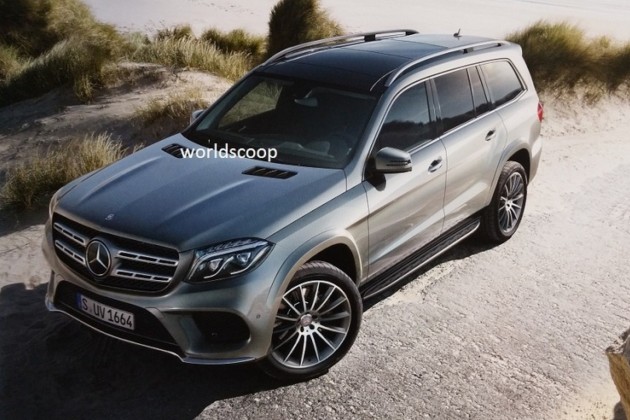 The GLS follows the company's new naming structure, with all SUVs given a GL prefix, followed by their respective size; the GLC is the C-Class-sized SUV, GLA is the A-Class, GLS is the S-Class.
These images first appeared on French forum worldscoop, showing the new model completely undisguised in all its glory. As expected, the front end is given a fresh face with more sophisticated headlights, a two-tier grille, and a sporty lower air dam and corner inlets.
This theme is seen on many other models in the company's showroom, with the GL-Class being one of the last to receive an iteration of the styling language. Although the front and rear ends are updated, the bulk of the torso looks relatively unchanged from the current GL.
Mercedes-Benz is also likely to have given the interior a modern makeover, with instruments and gauges probably being replaced by a digital LCD display, and a revised centre fascia stack with a new touch-screen interface.
Powertrain options are yet to be confirmed, however, we can expect a similar range of turbo-petrol and turbo-diesel engines as seen in the current crop of E- and GLE-Class models. At the top will be a fire-breathing AMG version with a twin-turbo V8.
A full debut will reportedly take place at the 2015 Los Angeles Auto Show later this month. It all starts on November 17.