Only about one out of every 20 new vehicles that are released really catches your attention and invigorates your driving spirit. This new Jaguar XE S has a strong potential to be one of those unique cars; it's the most powerful non-hybrid rear-wheel drive model in its class, arguably the most attractive in terms of design, and it offers one of the most engaging driving experiences in the competitive and well-established segment.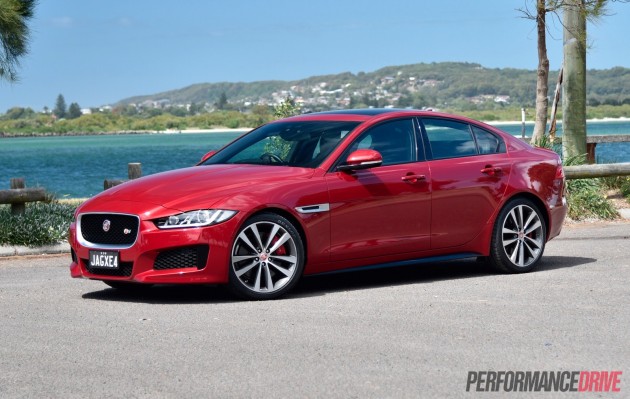 Before you jump into the comments section and remind us of more powerful rivals like the BMW M3 and Mercedes-AMG C 63, the Jaguar XE S is not designed to be an outright performance model. It sits in the regular range and is produced at the same factory in the UK as other XE variants. This means it is the most powerful non-hybrid model in this specific class… at least until the updated Infiniti Q50 Red Sport comes along with its 298kW twin-turbo V6.
In the XE S is Jaguar's ferocious 3.0-litre supercharged V6 first introduced in the gorgeous Jaguar F-Type sports car. It generates 250kW and 450Nm, sent through an eight-speed sports automatic transmission with rear-wheel drive (no manual option). Jaguar does offer a 280kW version of the same engine in other models, which suggests to us Jag might launch a bespoke high-performance version to take on the M3 and the likes in the future.
Being the flagship variant the XE S is priced relatively high, from $104,200, fitting in at the upper end of the flagship mid-size premium sedan class: 245kW/440Nm Audi S4 is priced from $106,110 (outgoing model); 240kW/450Nm BMW 340i priced from $89,900; 233kW/378Nm Lexus IS 350 F Sport priced from $71,500; 268kW/546Nm Infiniti Q50 S Hybrid (RWD) priced from $67,900; and the now out-of-production 257kW/500Nm Volvo S60 Polestar priced from $99,600. (All prices exclude on-road costs.)
2016 Jaguar XE S – THE SPECS
Engine: 3.0-litre supercharged V6
Output: 250kW@6500rpm / 450Nm@4500rpm
Transmission: Eight-speed auto
Drive type: Rear-wheel drive, torque-vectoring differential
Wheels: F: 19×7.5, 225/40  R: 19×8.5, 255/35
ANCAP: Five stars
Tare weight: 1597kg
Power-to-weight: 6.38:1 (kg:kW)
Official fuel economy: 8.1L/100km
Economy during test: 9.3L/100km
Fuel capacity/Type: 63L/95 RON
Power efficiency: 30.8kW:L/100km
0-60km/h: 2.67 seconds
0-100km/h: 5.26 seconds
1/8 mile: 8.85 seconds at 138.9km/h
1/4 mile: 13.55 seconds at 171.4km/h
100-0km/h braking: 2.82 seconds at 36.75 metres
Decibel at idle: 41.1
Peak decibel at 60-100km/h: 89.4
Peak stereo decibel: 100.3
Priced from: $104,200
2016 Jaguar XE S – THE PACKAGE
Priced this high does leave you questioning some of the features and standard equipment. For example, a sunroof is a $2340 option, adaptive cruise control will set you back an extra $2275, and premium metallic paint is an additional $3380. As you can see, the already high price tag could be blown out to around $120,000 quite easily once on-road costs and a few options are added in.
Jaguar Land Rover has always offered buyers a wide variety of options. Customers familiar with the brand will have no issue with this. Our concern is the fact some of the rivals, particularly the Japanese ones, come with these features as standard. We get it, luxury vehicle buyers want to be able to personalise their car with bespoke leathers and colour combinations, but features like the ones mentioned aren't anything special nowadays and really should be standard fitment on a flagship model we think.
Fortunately, the cabin atmosphere, including the mixture of quality materials and exquisite fixtures, such as the metallic gear selector that famously rises up from the centre console, do seem to justify the initial price. The 10-way power adjustable front seats are wrapped in soft Taurus grain leather and feature suede-cloth inserts for body-hugging grip, while the Phosphor blue ambient mood lighting around the cabin at night makes the interior feel like a very classy place indeed.
Speaking of the seats, we found the front chairs to be well-cushioned and supportive while offering decent lateral reinforcement thanks to the protruding side bolsters. Getting into them isn't as elegant as you might have hoped though, as you do have to duck right down into the car below the low-slung A-pillar to get in. In that regard it is like a proper sports car and not a regular mid-size premium sedan. All of the German rivals offer more practical cabin access, however, they don't offer the charisma of the Jag. In other words, you're more likely to become bored by the interior of the German rivals before yawning at the XE S interior.
Once you're in, the driving position is spot on. The steering wheel sits right at your chest at a perfect perpendicular angle, and it can be adjusted electronically, with the dash presented high and forward to give you an uncluttered yet intimate environment. Pedal placement is also perfect, and all of the controls are within arm's reach except for the touch-screen. Jaguar is one of the last remaining premium manufacturers that doesn't offer a remote hand controller for the interface down on the centre console. It becomes obvious at this point this is a driver's machine and not an extension of a business suit like some of the rivals.
Rear seat space is acceptable but it is confined for the middle-seat passenger due to an intrusive transmission tunnel running through the middle. Headroom in the back is reasonable despite the swooping roofline, and overall space is at the smaller end of the segment standards. Four adults can ride in good comfort and the flip-down armrest in the middle gives the rear passengers a cup holder each, with climate vents on the back of the centre console for added comfort. There's also pockets in the backs of the front seats, and bottle holders in the doors. As for boot space, it's rated at 450 litres, or just off the 480L offered in almost all of the competitors.
Exclusive to the XE S is a discreet bodykit with black side skirts and rear diffuser area, a neat lip spoiler on the boot, a more aggressive front end with bigger intakes, staggered tyre and wheel package with 19-inch alloy wheels wrapped in 225 front and 255 rear performance tyres, red-painted sports brakes and lowered sports suspension, and of course the all-new body and chassis applied to all XE models which is made using recycled aluminium (world first). Some of the major suspension components are also made from forged aluminium to keep weight to a minimum.
2016 Jaguar XE S – THE DRIVE
Fire up that crackling supercharged V6, twist it into S mode, and push back any plans you have for the day. The XE S is exactly the kind of car that makes you want to wake up early on a Sunday morning and go for a long drive into the country. The engine, although muted compared with the F-Type, produces a distinct baritone note at idle. It tantilises you and tempts you to give the throttle a tickle. To the untrained eye, or untrained pair of ears, the XE S doesn't make a big deal about its soundtrack – the neighbours aren't going to get annoyed every Sunday. Again, this suggests there might be a more hypo version of the XE in the works; Jaguar usually loves making a big deal about engine starts and exhaust acoustics.
Along the highway the engine isn't as svelte as some of the inline six turbo units featured in the rivals, such as the BMW 340i, but it is smooth and very powerful, and it offers a nice raspy note higher up in the rev range (louder from the outside). We would have liked to see Jaguar offer a bi-modal exhaust system as one of the options, like on the F-Type sports car with the same engine, however, we guess this is not really that style of vehicle. We also miss the little burble/fart on manual upshifts that's emitted from the F-Type (and from some German sedans).
With loads of low-down torque the aluminium engine is flexible and can pull the 1597kg (tare) XE S through tight roundabouts in third gear and squirt up steep hills with no hesitation at all. You get the sense the engine is ready to unleash huge acceleration at any given moment, with 250kW sucking through the twin air intakes and pushed through the twin-vortex Roots-type supercharger. You won't be wanting for more speed, that's for sure. Flat out, the speedo just climbs and climbs, relentlessly, with excellent acceleration off the mark thanks to instant throttle response and the high compression ratio of 10.5:1, and superb top end with peak power coming in at 6500rpm. In hot conditions we timed a best 0-100km/h of 5.26 seconds and a quarter mile of just 13.55 seconds. Deceleration is just as impressive, with our 100-0km/h test recording a stop in just 36.75 metres.
Matched to the engine is a wonderful eight-speed automatic. Jaguar – like many manufacturers – offers an almost confusing assortment of driving modes to choose from, with Dynamic and S mode, and Normal and Drive at either end of the spectrum. In S mode the transmission holds off on changing up gears and will kick down sooner, while D likes to jump into the higher gears as soon as possible in the hunt for optimum economy. Unlike the nine-speed auto Jaguar Land Rover offers in other models, this eight-speed doesn't hesitate or jump into higher gears too soon. Instead, it changes when you expect it to, if a little too eager to find higher gears in D mode. Selecting Dynamic, S, and then pulling one of the paddle shifters switches it to manual mode. This is where you'll have the most fun as you can have a direct influence on how the car drives, and call for gears precisely when you want them. The upshifts are lightning quick and the downshifts are prompt and accompanied by a neat little rev-matching blip of the throttle. The engine and transmission combination is a real delight, especially for driving enthusiasts.
You don't need to be going fast to enjoy the XE S though. Thanks to the precise and super-responsive electric power steering system (a first for Jaguar), the XE darts around like a wasp. The steering feel is linear and quick while providing plenty of feedback at all parts of the steering range. This means you can immediately act on any understeer or oversteer that you might encounter. You'll have to push hard to experience such physics though as the grip level on offer is tremendous.
Understeer only ever occurs if you happen to drive over some wet leaves on the road right at a corner, or if you're being silly and pushing the car too fast into a corner. Oversteer is playful and easy to control with the stability control off, and it is possible to maintain slides with the throttle. However, under the back end is an electronic torque-vectoring differential which will let go to inside wheel wheelspin if you place the car in an awkward position, such as turning up a steep hairpin. A proper mechanical limited-slip type setup would be preferred by more keen drivers, although, the torque-vectoring system is very clever if you just want to get from A to B, as swiftly and safely as possible.
Aside from the performance driving appeal of the XE S, this car is a great touring and commuting vehicle. After all, it isn't designed to be an all-out mental sports sedan; it is a sports-focused luxury sedan. And for that it offers a refined and comfortable ride thanks to an absorbent suspension setting, along with effortless cruising ability thanks to the potent powertrain. It's also surprisingly fuel efficient, recording an average of around 9.3L/100km during our week-long test, and an official average of 8.1L/100km.
2016 Jaguar XE S – THE VIDEOS
2016 Jaguar XE S – THE VERDICT
The XE S is definitely one of the sportiest flagship mid-size sedans on the market, and one of the best handling. Not many others in this space can string a set of corners together and offer as much fun and excitement as this. If you want sheer luxury, you're better off looking elsewhere or looking to the other variants of the XE such as the Portfolio 25t. Overall, we think Jaguar has done a thorough job of blending its racing heritage and its more recent advances in modern technology with the XE S. It's not the outright sports sedan we were (and still are) hoping for but in sacrificing outright speed and noise, refinement and everyday practicality become a major selling point.
PROS:
– Precise and engaging steering
– Smooth, powerful, and peaky engine
– Exterior design; most aerodynamic Jaguar production car
– Responsive eight-speed auto (manual mode)
– Surprisingly fuel efficient
– Extremely solid and sure-footed handling

CONS:
– Tight interior, close A-pillars
– No mechanical LSD option
– No exhaust valve option… reserved for 'XE R'?