Hyundai's answer to the Audi SQ7 and BMW X5 M50d? Not quite. However, the 2016 Hyundai Santa Fe SR does possess true sporting pedigree and, visually, it does wonders to shake up the seven-seat SUV class.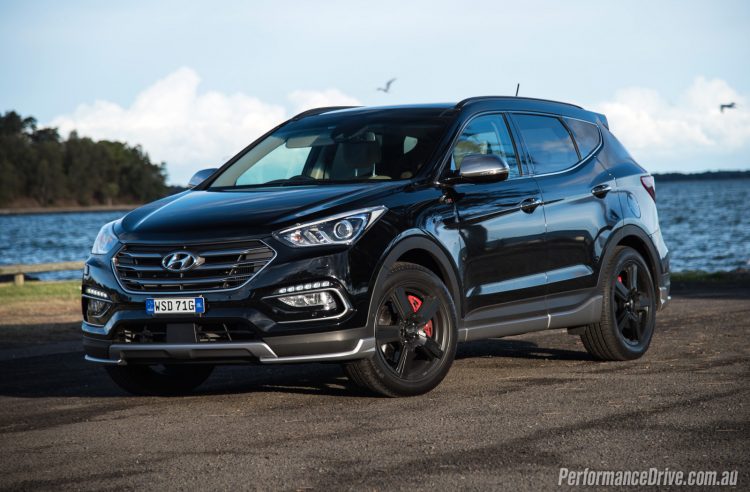 Hyundai Australia introduced the Series II Santa Fe late last year, bringing some design tweaks inside and out, adding more technology, and throwing in even more standard features across the broad range. Apple CarPlay is now part of the mix too.
This SR version sits at the top of the range. It's only available with the company's 2.2-litre CRDi turbo-diesel four-cylinder engine, which produces a healthy 147kW and 440Nm. There is no performance tuning specifically for the SR.
Priced from $64,250, around $7000 north of the otherwise range-topping Highlander variant, the SR would want to bring a number appealing and worthy enhancements. Let's take a look.
2016 Hyundai Santa Fe SR – THE SPECS
Engine: 2.2-litre turbo-diesel four-cylinder
Output: 147kW@3800rpm / 440Nm@1750-2750rpm
Transmission: Six-speed auto
Drive type: All-wheel drive
Wheels: F: 19×7.5, 235/55  R: 19×7.5, 235/55
ANCAP: Five stars (scored 35.63 out of 37)
Tare weight: 1968kg
Power-to-weight: 13.38:1 (kg:kW)
Official fuel economy: 7.7L/100km
Economy during test: 8.6L/100km
Fuel capacity/Type: Diesel
Power efficiency: 19.0kW:L/100km
0-60km/h: 4.01 seconds
0-100km/h: 9.28 seconds
1/8 mile: 10.88 seconds at 108.2km/h
1/4 mile: 16.82 seconds at 132.1km/h
100-0km/h braking: 3.15 seconds at 40.85 metres
Decibel at idle: 47
Peak decibel at 60-100km/h: 79
Priced from: $64,250

2016 Hyundai Santa Fe SR – THE PACKAGE
From the outside the SR definitely looks the part. It shows off some very cool 19-inch OZ Racing alloy wheels, in the fashionable black. These hide a set of four-piston red-painted Brembo brakes (340mm cross-drilled front discs, 302mm rear discs). There's also a neat silver-highlighted bodykit complete with side skirts, a front lip, and a rear diffuser with integrated exhaust outlets.
Underneath all of this is a comprehensive sports suspension system which was developed, in part, right here in Australia. It uses H&R Performance springs that are six per cent stiffer at the front and 11 per cent stiffer at the rear, paired up with Korean-made Mando dampers (also used on other variants).
Aside from these enhancements the Santa Fe SR is very similar to the regular Highlander flagship. Inside you get a huge cabin with ample space for the first and second rows, and a useful third row flip-up seat for the kiddies. We wouldn't recommend the third row for adults, at least on long journeys, as it is quite tight. Getting in and out of the third row is also a bit of a hassle.
This test car features a cream leather upholstery which definitely brightens up the cabin ambience, especially with the standard panoramic glass roof open. It looks and feels like a proper high-end vehicle. It's not the softest leather and some of the button and control tactility brings it back to budget levels, but overall practicality and functionality is spot-on. Everything is where you would expect it to be, and fit and finish is at least at Japanese-car standards.
As standard, front passengers get 12-way power-adjustable seats with heating and cooling functions, while the second row can also be heated. Sitting in the dash is a 7.0-inch touch-screen interface connected to a quality 10-speaker sound system. Right in the back, cargo space is rated at 516 litres, or 1615 litres with all rows folded down.

2016 Hyundai Santa Fe SR – THE DRIVE
So on the face of it the SR expresses various forms of sportiness. Is it actually any faster though? And does it handle any better than the regular variants?
We timed 0-100km/h in 9.28 seconds. This isn't what we would call sporty. There is loads of torque, 440Nm available from just 1750rpm in fact, and the power is progressive and provides highway overtaking with no real stress. We really like this engine in the regular Santa Fe, so it's hard to fault it here. It's also very quiet, recording just 47dB at idle and 79dB at full-throttle. If you're expecting a degree of distinct 'SR' flair though, you might be disappointed; performance is not any more special than the regular models.
Fuel economy isn't hindered by the SR enhancements and you can expect a consumption average of around 8.6L/100km; very similar to the regular Santa Fe diesel and the official 7.7L/100km average. This means it is a very practical unit for regular driving.
Instead of being a performance-oriented straight-line sprinter, like other SR-badged models compared with their regular counterparts, the Santa Fe SR is noticeably more accomplished in the corners than its humdrum brothers. Body roll is still evident, however, there is more grip and chassis control in the turns and it does feel more eager to engage in energetic switch-backs and general sporty driving. The H&R spring tune seems very comfortable with brilliant ride quality, ironing over mid-corner bumps without upsetting the vehicle's stability.
Strangely, the big Brembo brakes don't seem to pull up the Santa Fe as well as you might think. After multiple attempts, the best 100-0km/h emergency stop we achieved was in 40.85 metres – about the same distance as the ute-based Mitsubishi Pajero Sport we recently tested. It's not that this distance is bad but it certainly doesn't match up to the instantly-recognisable presence and reputation of Brembo. They withstand repeated abuse very well thanks to the cross-drilled discs, but our question is, what would a diesel Santa Fe owner be doing to require such endurance? Nonetheless, Hyundai says the 60-0km/h braking distance is reduced by eight per cent compared with the regular Santa Fe.
Overall, the SR is a marginal step up in driving sportiness compared with the regular Santa Fe, in our opinion. As long as you aren't expecting the driving dynamics to match or exceed the sporty looks and brand-name parts, this could be a rewarding and satisfying vehicle to drive about in.
2016 Hyundai Santa Fe SR – THE VIDEO
2016 Hyundai Santa Fe SR – THE VERDICT
The Santa Fe should sit right up there at the top of your seven-seat SUV shortlist. It's very spacious inside and extremely well-packaged, comfortable, while the diesel engine is economical yet powerful with respectable performance. As for the SR treatment? As far as we can tell, the brand-name items are applied purely for visual appeal and bragging rights. We don't think they are worth the extra money over the Highlander. On the other hand, the SR is great if you want to stand out with something a bit different and exciting in this relatively conservative segment.
PROS:
– Smooth and torquey diesel
– Real-world economy
– SR pack looks hot
– Ride quality
– 10-year roadside assistance, 5-year capped-price servicing
– Loaded with features

CONS:
– Pricey for the segment
– SR parts don't seem quantifiably justified, no extra power either
– Third row access