What do you do when you have loads of money and don't want an 'ordinary' Ferrari? You get Ferrari's Special Project division to build you a custom creation of course, such as this F12 Berlinetta TRS.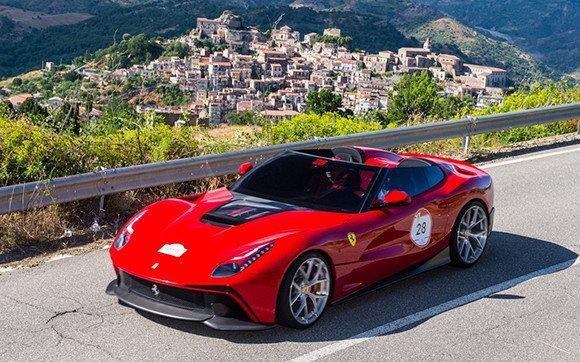 The one-off supercar is based on the grand touring and hugely powerful F12 Berlinetta, which is normally a strict hard-top coupe. But in this, the roof has been elegantly chopped off for a cool roadster layout.
There's a pair of buttresses that run down the back of the seats, inspired by the 1957 Ferrari 250 Testa Rossa, and a smooth wrap-around windscreen and a bespoke front chin spoiler.
Around at the back everything has been changed, with a custom wing formed into the bodywork, a carbon fibre fascia, and two pieces of bodywork that sweep into the middle and run down into a chunky diffuser underneath.
Inside is revised and now appears with a cleaner and fuss-free layout, with fewer buttons and controls ruining the design. It's all covered in either Alcantara, carbon fibre, and plush leather.
Under the bonnet the same 6.2-litre naturally aspirated V12 engine resides. It produces 544kW of power and 690Nm of torque, capable of sending the F12 from 0-100km/h in just 3.1 seconds.
Unfortunately Ferrari hasn't released official photos of the car, however, we found a video which shows some of the detail. See below.